The wedding story of Ailar and Robert, who were married May 5, 2020 (their anniversary!), in a beautiful backyard ceremony in Marietta, Georgia, in the midst of the coronavirus pandemic. Love is most definitely not canceled!
---
As their wedding officiant, I had the honor of marrying Ailar and Robert in a private ceremony in their backyard. May 5 is their two year anniversary so the date of the wedding was important! Instead of eloping to NYC as they had planned, they were married in front of a Zoom crowd of family and friends from around the world.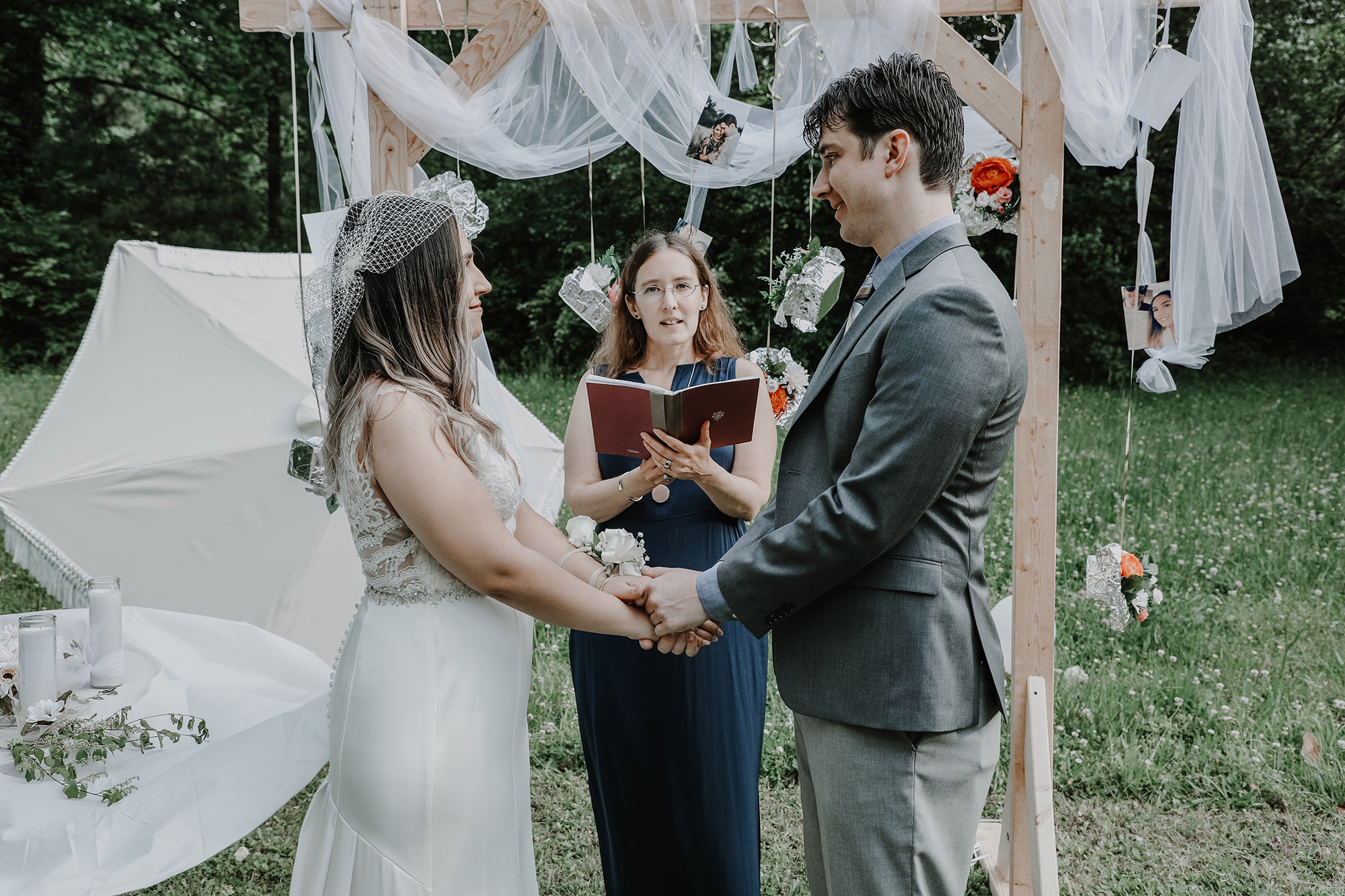 A friend of theirs built an arch for them, which they decorated with hanging flowers and photos of the two of them. After the ceremony, they toasted with Corona beer (of course!) and shared a small cake.
It was a beautiful day for this beautiful couple!
My Favorite Ceremony Element
One of my favorite parts about their ceremony was the Rumi quote we included to honor Ailar's Persian heritage.
May these nuptials be blessed for us, may this marriage be blessed for us,
May it be ever like milk and sugar, this marriage like wine and halvah.
May this marriage be blessed with leaves and fruits like the date tree;
May this marriage be laughing forever, today,tomorrow, like the houris of paradise.
May this marriage be the sign of compassion and the approval of happiness here and hereafter;
May this marriage be fair of fame, fair of face and fair of omen as the moon in the azure sky.
I have fallen silent for words cannot describe how the spirit has mingled with this marriage.
– Rumi
I am so very grateful that I have been able to help so many couples get married in these uncertain times.
Love is not canceled! Nor will it ever be!
Congratulations, Ailar and Robert! Best wishes for a beautiful life together!
Namaste and Blessed Be
Photos courtesy of Yamur Photography
---
Sweet words from a sweet couple:
I reached out to Daria not long before our wedding, she is a very nice person, responsible, flexible and professional, and thoughtful! I'm Persian and she came up with a great idea of having a poem about love from Rumi, and everybody loved this idea. Since we were so stressed for weather and rain she was so calm and she was making sure I'm not stressed, and the weather was exactly the way she told us. She was like a close friend to me, she was following up about everything to make sure we loved everything about our ceremony. That was one of the best decisions I made for my quarantine wedding. We love her and recommend her to everybody who wants to not be stressed, because just like a friend she will be there for you.