What is a sofreh?
It's a Persian wedding ceremony tradition; meaning a table or a "spread."
In a Persian wedding, the ceremony area, including a stage or table, is covered with delicious delicacies and beautiful decorative items, each with its own particular symbolism for the marriage.
A Persian restaurant in NYC defines a sofreh this way:
Traditionally, the Sofreh is a term for an iconic Persian fabric that served as the backdrop for seasonal feasts and celebrations. Over time, the term itself has taken on a larger cultural significance: it refers to a gathering, a sharing, a place for family and friends to come together.
Well, that is quite a perfect sentiment for a wedding!
How does a sofreh work at a wedding?
Let's look at the wedding of Mitra and Sean, married November 1, 2014 at the
Biltmore Ballrooms
in Atlanta, Georgia, to find out!
Mitra very much wanted all their guests to be able to see what was happening during the ceremony. I suggested that we place the stage holding the sofreh in the center of the ballroom, setting up the chairs in quadrants around it. This way, everyone could see, and Mitra could still process down an aisle (also an important consideration for her). After much arranging and rearranging of chairs at the rehearsal, this is how it looked! (And by the way, isn't the Biltmore amazing??)
Prior to the ceremony, I watched the family (the bride's aunts and cousins) lovingly set up the sofreh on the stage, carefully placing each item just so.
Traditional sofreh components:
Mirror
Holy book(s)
Candelabra
Espand (wild rue seeds, burned to ward off bad energy)
Honey and yogurt
The termeh (silk cloth)
Sugar loafs

(more on this below!)

Flatbread
Flowers
The couple's chair
Eggs
Bread and herbs
Coins of gold
7 colored threads
Sweets
Rosewater
Rock candy
Noghl (a traditional Persian sweet)
Seven spices (Khashkhash (poppy seeds), Berenj (wild rice), salt, Raziyane (Nigella seeds aka coriander or fennel), Cha'i (black tea leaves), Sabzi Khoshk (Angelica) and Kondor (Frankincense))
Almonds and walnuts
Fruit
The tablecloth
Ceremonial cloth
See this
helpful site
for explanations of each item. I love symbolism so much, and all of this information is fascinating!
During the ceremony, the wedding party holds a cloth above the couple's heads, and the bridesmaids grind large cones of hard-packed sugar (the above-mentioned sugar loafs) onto the cloth, symbolizing sweet blessings raining down on the couple.
I remember the bridesmaids worrying about how their triceps would hold up during this workout! (They did a fabulous job…)
After their sugar shower, Mitra and Sean exchanged vows and rings, and then it was time for another shower – this time of rose petals!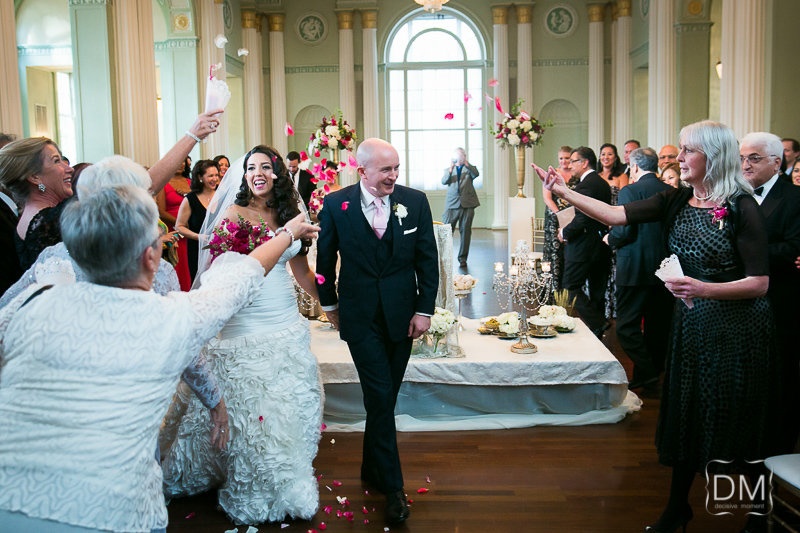 Remember that the size of your Sofreh Aghd must comfortably accommodate the Sofreh Aghd items so that there are no yawning gaps or any empty (khali) areas. Sofreh Aghd items are never crammed, never spread haphazardly and never sitting apart. The goal, as with the marriage, is a well-integrated, lovingly attentive, harmony.
Loving harmony: A beautiful sentiment for a beautiful wedding tradition!
Congratulations, Mitra and Sean! May you be showered with all sweetness and beauty forever.