---
"I will thank you in more length and in a more concrete manner later, but for now, just know how very happy we are with how everything went yesterday, thanks in large part to your tremendous efforts! I think it was the perfect day for Emma and Patrick, and they were still beaming at brunch this morning 🙂 Thank you from the bottom of my heart for everything you did to make the day go so flawlessly. So many guests commented on how well run the event was, and I told them I had the best fairy godmother! I appreciate it so much, as does SA, Emma and Patrick." ~ Charlene (MOB)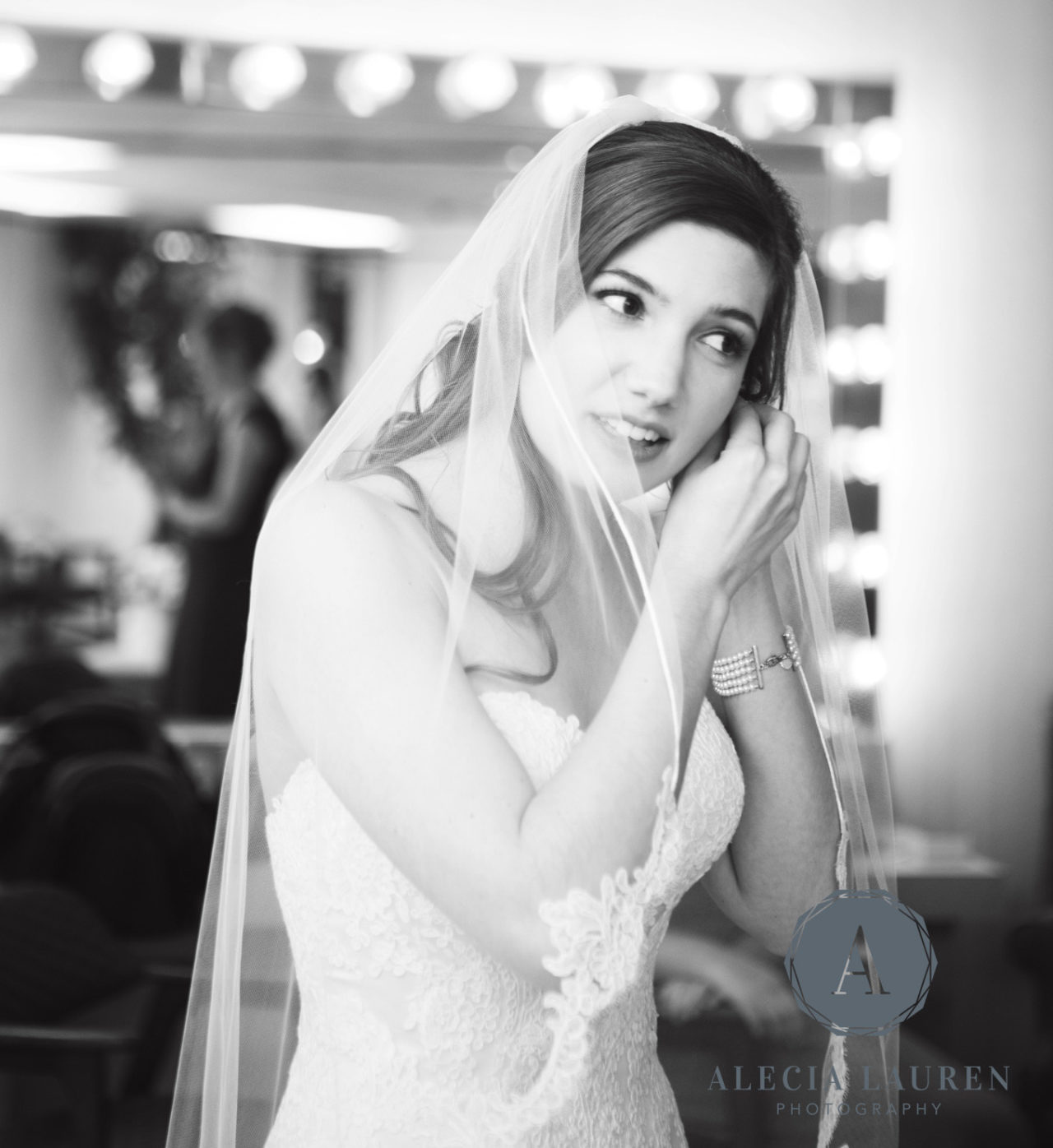 Emma, whose parents are from South Africa, and Patrick, whose family is from the Northeast, met at a tiny school in North Carolina. They planned their wedding as Emma was finishing up law school and doing a summer internship, and Patrick was beginning his teaching career at a Jesuit school here in Atlanta. Consequently, Emma's mom Charlene did most of the planning.
She and Emma agreed that they wanted to keep it simple, warm, traditional and classic, with the focus on the church ceremony and on visiting with loved ones. The wedding was an international affair, with guests traveling from around the US, England, Canada, and South Africa.
The ladies had a relaxing morning getting ready at Emma's sister-in-law's condo – a highlight was Brigid playing the piano for us as we were packing up to leave (her rendition of Ave Maria brought Emma to tears).
The ceremony, which took place at the beautiful stone church St. Jude the Apostle in Sandy Springs, was officiated by Patrick's boss, who also knew Patrick growing up.
Guests then had the afternoon to themselves, while Emma and Patrick went for a private photo session at shady Winn Park in Midtown.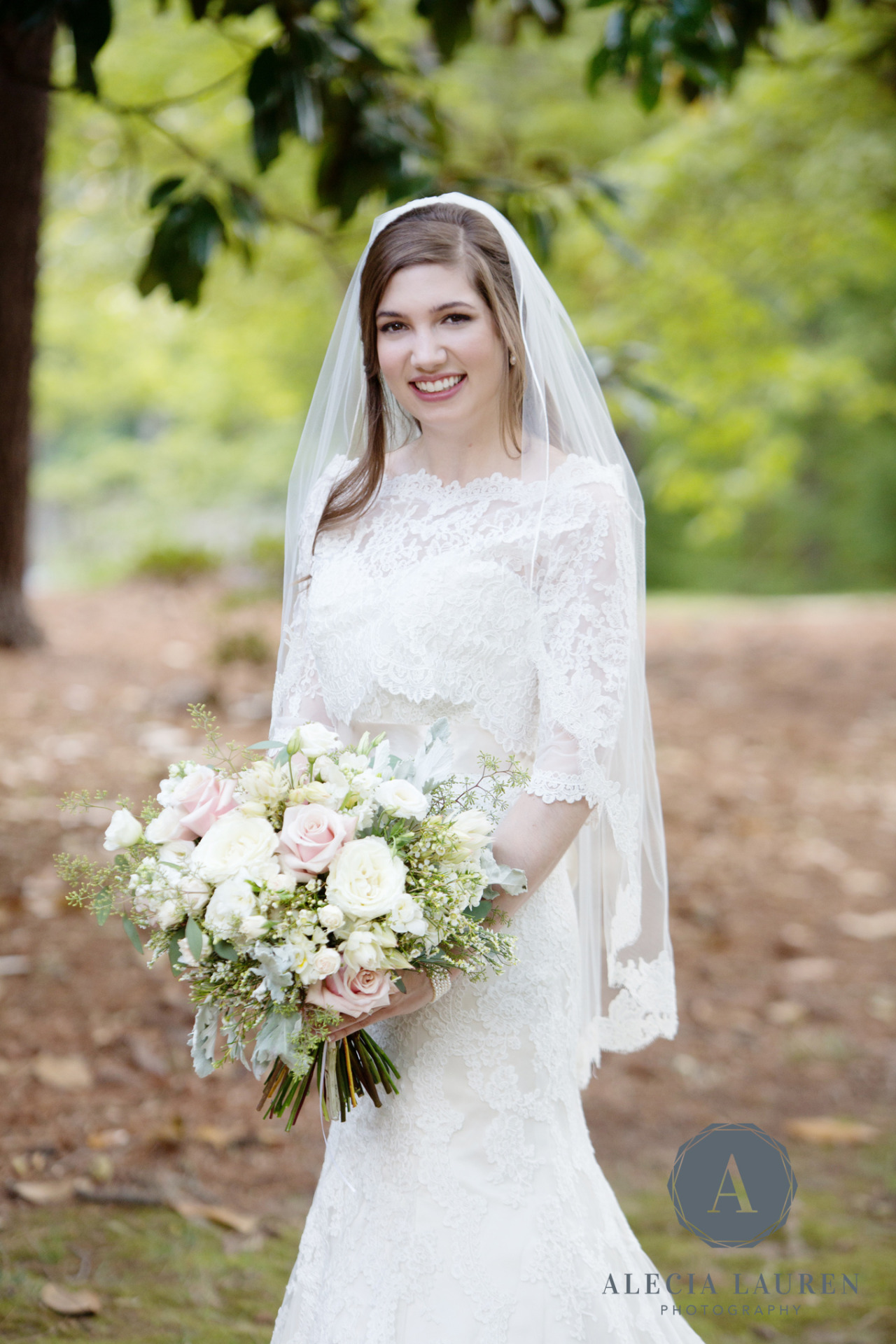 An evening reception followed at the Commerce Club, and the ballroom was gorgeous with garden-style flower arrangements in shades of ivory, peach and coral.
One of our favorite things about the Commerce Club is the unparalleled nearly 360 degree view of Atlanta, and on this evening we were gifted with a gorgeous sunset, which the guests enjoyed as they scarfed down their dual filet and chicken entreés.
Emma and Patrick always said they wanted a good mix of conversation and dancing, and they got their wish as they visited with some guests at their tables and others on the dance floor throughout the course of the evening.
Emma's dad gave a moving toast, and soon enough it was last dance (to Anna Sun, which they heard at a Walk The Moon concert) and time for the happy couple to depart, as guests waved ribbon wands, to their Perdido Key honeymoon.
My Favorite Detail
Emma's dear grandmother passed away unexpectedly just two months before the wedding, and Emma misses her terribly. To ensure she was remembered on the wedding day, we affixed a photo of Oma along with a charm to Emma's bouquet.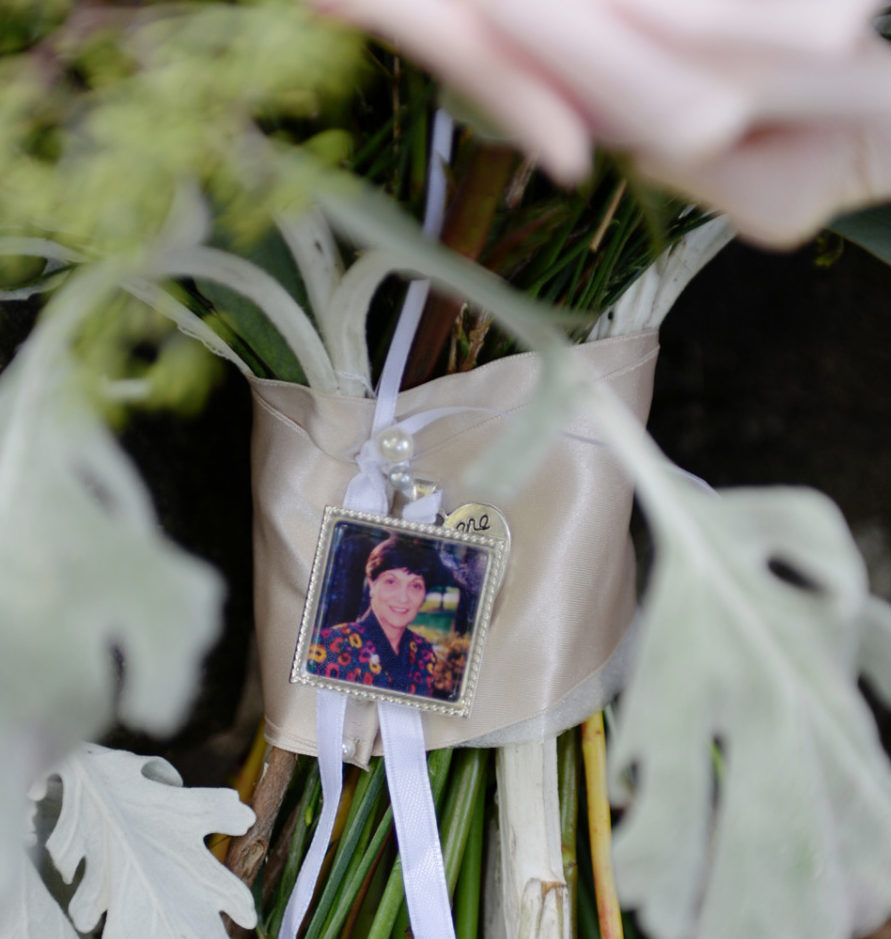 My Favorite Moment
Towards the end of the evening, I had the opportunity to sit and observe the dancing for a while. DJ Mike played a couple of slow songs, and I watched as Emma's parents shared a sweet moment, as did Patrick's sister and her boyfriend, and then Emma's other grandma (still young and vivacious in her seventies!) led Emma's Opa (who had just lost his wife) onto the floor. It struck me that the two of them must be remembering back to Charlene and SA's wedding 30 years ago, and I was overwhelmed with how much love was in the room at that moment.
Isn't that one of the reasons we live – is to enjoy those moments together with family and those we love?
Congratulations, Emma and Patrick! I loved being your wedding fairy godmother! Best wishes for a beautiful life together.
---
Venues
Ceremony St. Jude the Apostle Catholic Church
Services
Officiant Father Jim Van Dyke
Photographer Alecia Lauren Photography (no longer doing weddings)
Baker Sugar Kneads (now closed)
Babysitters Bring The Kids
Rehearsal Dinner Trader Vic's
Photos courtesy of Alecia Lauren Photography