A retrospective of our celebrations of love over the past 15 years. These are the stories of a wonderful year.
A wedding truth: there's nothing like rain to make you REALLY appreciate the gorgeous weekends! Despite some stormy situations, all of my couples fully embraced my mantra: no matter what happens, you're getting married! And oh my, did we have some stunningly beautiful weddings, culminating with a fabulously over-the-top New Year's Eve wedding (my first!).
Evolving Design
A fun new trend: Jenga (as guest books and as giant lawn games for cocktail hour).
Wedding painters entered the scene – what a genius idea! Read more
here
, and below in the Awards section!
The rustic decor style is still alive and well, and yet we are also seeing a bit of a swing back to old-school glamour, with heirloom silver and tons of flowers. I love the balance!
Love Wins
The biggest and best news of the year was the U.S. Supreme Court's landmark decision to honor same-sex marriage throughout the country, making it legal in all 50 states. At long last, a victory for compassion, equality and love. Love wins! Blessed be!
Building A New Foundation
After several years of working at the height of my energy level, my body and heart began letting me know that some adjustments were in order. Surgery healed my body, and I spent some time deeply listening to my heart's whisperings about the future of my work in the wedding arena, leading to two steps:
• I got ordained online in June, with the intention of officiating ceremonies.
• In partnership with one of my dear friends (who is also one of my wedding assistants), I launched a satellite brand named Camellia Blossom Events, to serve more couples.
Here's to a year of new beginnings, and long overdue changes. Welcome to 2015!
---
I just wanted to say a million times THANK YOU! Thank you for your guidance, patience, calming presence, upbeat and happy spirit, your attention to detail and all the little and big things you did for us Saturday and all the days leading up to it. Not a single thing went unnoticed, and our families, Andrew and I could not be more thankful for you. You are the absolute best, a fairy godmother of weddings, and we couldn't have asked for a more perfect team. You really made our dreams come true and we will be forever grateful.

~ Lauren (bride)
2015 Events
Alex & Austin, married on February 21, 2015 at Peachtree Christian Church and Sweetwater Brewery in Atlanta, Georgia. Alex and Austin are both nurses in Nashville, but they came home to Atlanta for their fun, laid-back wedding. A welcome sign at the front of the reception entrance said, "Welcome to the Brunheober Brewfest," and the beer theme was carried through in every detail!
---
Sara & Jacob,
married on March 28, 2015 at King Plow Arts Center in Atlanta, Georgia. Read about this wonderful "North Meets South" wedding
here
and
here
!
---
Stephanie & Alex,
married on April 11, 2015 at Saint John Chrysostom Melkite Catholic Church and The Four Seasons Hotel in Atlanta, Georgia. Stephanie and Alex honored her Lebanese heritage and the Byzantine Catholic religion of her family at a fascinating and beautiful ceremony, rife with symbolism and tradition, including the
crowning
of the bride and groom.
---
Megan & Richard, married on April 25, 2015 at the Georgian Terrace Hotel in Atlanta, Georgia. Although only 60 guests attended, Megan and her mom pulled out all the stops to ensure that it was the wedding event of a lifetime. One thing Megan was very clear about from the beginning was that the decor was to be glamorous – "no mason jars." Ha! Maybe this ubiquitous trend is finally moving on?
---
Lauren & Rick, married May 2, 2015 at Emory Presbyterian Church and Druid Hills Golf Club in Atlanta, Georgia. An elegant affair that was also fun and laid back in many ways, the perfect compromise for a fun-loving couple with more traditional parents. The weather cooperated (hallelujah!) for the magical reception under the stars on the club's terrace.
---
Rebecca & Will, married on May 16, 2015 at Glenn Memorial United Methodist Church and Emory Conference Center Hotel in Atlanta, Georgia. A beautiful and personal ceremony, planned by the couple to include many of their church friends as greeters, readers and musicians. Their current pastor and Rebecca's youth pastor co-officiated the ceremony. Rebecca carried several family heirlooms tied onto her bouquet, and lace from her mom's veil was incorporated into her bouquet wrap as well as the flower girl's dress. Music permeated the lovely worship service, and Rebecca and Will personally served Communion to all 200 of their guests.
---
Rosalie & Phil, married on May 24, 2015 at The Ritz-Carlton, Buckhead in Atlanta, Georgia. The ceremony sounds like the opener to an old joke: a rabbi and a priest walk into the Ritz… Both mothers were a bit concerned about incorporating their family traditions into the Jewish-Catholic ceremony, but in the end, they both agreed it turned out to be a perfect mix. The wedding was a high note ending to an eventful year for Rosalie and Phil (medical school, a move to Savannah… and a surprise baby, whose arrival caused us to move the wedding date, as he was due on the original date!), and the perfect beginning for their new life together.
---
Melissa & Jay, married on July 25, 2015 at Inman Park United Methodist Church and the Trolley Barn in Atlanta, Georgia. This is a wonderful combination of venues as they are within close walking distance, enabling couples and guests to enjoy this historic neighborhood on foot. The whole wedding was like a big summer garden party – simply delightful!
---
Lacy & Preston, married on August 1, 2015 at McKendree United Methodist Church and Country Club of the South in Johns Creek, Georgia. Nancy is our mortgage consultant and when she called me to get started planning Lacy's wedding, I just assumed she was calling to tell me it was time to refinance! I was so flattered that I was the first call they made. Together, we planned a beautiful, traditional wedding, with the ceremony held at Lacy's home church. Lacy's dad, a professional chef, provided the appetizers at the reception, and the crowd had a fabulous time on the dance floor.
---
Emma & Patrick,
married on August 8, 2015 at St. Jude the Apostle Catholic Church and The Commerce Club in Atlanta, Georgia. An international crowd gathered in Atlanta for this beautiful young couple. Read about their lovely Family Love Abounds wedding
here
.
---
Alissa & Will, married on August 21, 2015 at All Saints Episcopal Church and the Piedmont Driving Club in Atlanta, Georgia. Alissa and Will planned a classic Atlanta wedding, which took place in two historic locations. OK, so the rustic decor trend isn't quite done yet – Alissa loves the look, including chalkboards and burlap. Although one would think this style doesn't mesh well with the classic elegance of the Piedmont Driving Club, she managed to pull it off for a gorgeous and different look!
---
J & R, married on August 29, 2015 at Houston Mill House and Emory Conference Center Hotel in Atlanta, Georgia. J hired me just three months before the wedding, having just switched venues from one in Asheville to the Emory Conference Center in Atlanta. She needed help booking vendors and pulling together all the details, and together we made it happen! It was an intimate Italian-American affair (he is Italian, she is American). To honor the merging of cultures, there were special cookie favors at each place: an Italian wedding cookie and a heart-shaped pecan cookie.
---
Stephanie & Casey, married on September 18, 2015 at the Foundry at Puritan Mill in Atlanta, Georgia. Stephanie and Casey are busy executives and parents – with four kids between them, ages 3-14, they didn't have a lot of time for wedding planning! Stephanie and I pulled the wedding together over the summer, and it was an incredible affair! To honor their new blended family, they included a ring unity ceremony, in which they presented rings to all four of the kids. Guests received two favors: individually planted succulents (with flags that said Let Love Grow), and the biggest glowsticks I've ever seen – even the DJ said "whoa! those are huge!" when he saw them!
---
Casey & Patrick, married on September 26, 2015 at Summerour Studio in Atlanta, Georgia. While most Summerour brides choose to use the carved staircase as their altar, Casey and the florist came up with the idea to do the ceremony in the round, and have Casey and her dad make a grand entrance down the staircase. It was so perfect! A fabulous 6-foot diameter circular floral installation hung over the center of the ceremony area, low enough to feel almost like a huppah (a Jewish wedding canopy). The couple and their officiant (Patrick's sister) and the wedding party stood in the center, and the guests surrounded them on all sides, giving the ceremony the intimate feel that Casey wanted.
Aerial & Peter, married on October 3, 2015 at Galleria Gardens and the Renaissance Waverly Hotel in Atlanta, Georgia. True to her name, Aerial has red hair just like the Little Mermaid, and an Under The Sea color scheme took shape, with teal as the main color and black and silver as the accents. Aerial hand crafted many of the design details, from the branch/hanging candle centerpieces, to the wish tree, to all the paper goods, which she designed and printed. She kept me updated with photos of her handiwork as the months passed by, and it was always fun to see what she had thought of next! And she was thrilled when it all came together perfectly on the wedding day.
---
Annelise & Brendan, married on October 10, 2015 at St. Peter Chanel Catholic Church and Ivy Hall in Roswell, Georgia. What a love story! This is one of the sweetest couple's stories I have heard! The families are best friends, having met in Norway while the dads worked with GE. All the kids grew up together, and after finally getting her to agree to date him, Brendan then waited eight years for Annelise to marry him. He was literally giddy with happiness the entire wedding day, and it was such a joy to watch! During the reception, Annelise's father gave a moving speech which told the story of the two families, and ended with a sweet thank you to his wife, who was moved to tears.
---
Yoo Mee & James,
married on October 17, 2015 at The Georgian Terrace Hotel in Atlanta, Georgia. Korean heritage blends seamlessly with classic South in a super fun celebration. Read more about the wedding
here
… and find out how we averted a serious wardrobe crisis!
---
Amanda & Michael, married on November 8, 2015 at Chattahoochee Nature Center, Roswell, Georgia. This venue is a hidden gem with lovely grounds and a covered pavilion overlooking the river. Although the forecast called for clear skies and the ceremony was supposed to take place under a huge oak tree, Mother Nature changed her mind overnight, and on the wedding morning we awoke to rainy skies and cold temperatures – a very blustery day! The rentals company kindly agreed to leave the tent up from the previous day's wedding to give us more covered space, and we quickly shifted gears to rearrange the floorplan and timeline. Amanda is very laid back, and she did a great job enjoying her hair and makeup and not stressing about all of this. She definitely took one of my tenets to heart: no matter what, the only thing that matters is that you're getting married today!
---
Lauren & Andrew, married on November 14, 2015 at Our Lady of the Assumption Catholic Church and Summerour Studio in Atlanta, Georgia. Lauren is one of the most detailed brides I have ever worked with, but she is also the nicest, most grateful person. Just a joy to work with! Both of them are quite close to their parents and took pains throughout the planning process and the wedding day itself to show their gratitude. The culmination came during the last dance – I saw Andrew and Lauren dancing together, and then just moments later, they had gathered their parents to them and were dancing together with them in a circle. A sweet ending to the perfect day for this sweet couple!
---
Michele & Jon, married on November 21, 2015 at Vines Mansion in Loganville, Georgia. Michele is a dear friend of Jamie, my original wedding assistant. When she called me early in her planning process, she was a little bit stressed because she wanted things to be easy, and they weren't! But soon enough, as it typically goes, we found her perfect venue and the other elements fell into place. We were able to hold the ceremony outside at dusk, and the lighting was just beautiful! A buffet dinner followed, and one of the funniest scenes I've ever witnessed: Michele's mom's Korean friends (about 30 of them) rushing into the room for dinner, being first in line for the buffet, and then immediately leaving, all in a group! Yes, just like in Gilmore Girls!
---
Sarah & Billy, married on December 31, 2015 at First Presbyterian Church and the Capital City Club (Downtown) in Atlanta, Georgia. All I can really say about this amazing wedding is WOW! With 330 guests, two venues, three hotels, a wedding party of 30 (yes, you read that correctly!), at least 18 separate vendors and three days of set-up, (not to mention a rehearsal dinner/welcome party the night before for 180 guests), it was complicated, labor intensive, and absolutely stunning. It was my first New Year's Eve wedding, and what a way to end the year!
2015 Awards
Best Rehearsal
To Alex and Austin, for doing communion at the wedding rehearsal. (They were going to exchange personalized vows as well, but Austin got nervous at the last minute, so they ended up just exchanging them in letters on the wedding morning.) The pastor officiated the brief, but intimate and meaningful ceremony right at the end of the rehearsal, and then Alex and Austin offered the bread and wine to the family and wedding party. Many of my couples struggle with whether to include this ritual in the actual wedding ceremony, and I thought this was a lovely way to compromise.
Best Groom's Cake
To Megan and Richard, for the Redwings cake. Read all about it
here
!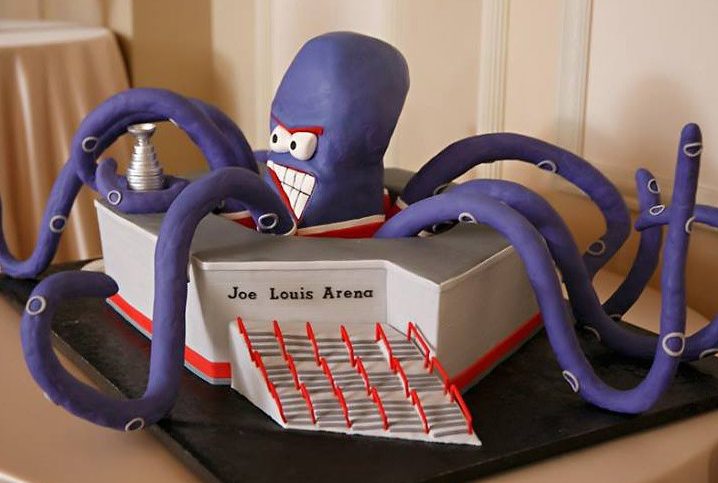 Best Expression On A Bride's Face
To Rebecca when her Uber pulled up… and it was a white Kia Soul! We had planned for the couple to leave the church in an Uber car (since the hotel was just a few minutes away). Somehow Will's phone would only allow me to call an Uber X, which can be any type of car. We were tickled when up rolls a white Kia Soul! It was actually very cute to see them drive off in it, and the driver could not have been nicer.
Best Guest Book
My couples are always on the hunt for a unique guest book idea that won't just get shoved in a closet after the wedding. This year we saw the rise of the brilliant Jenga guest book (possibly inspired by the cocktail hour game of "life-size" jenga, which also made its debut this year, much to the delight of wedding guests!).
Best Father/Daughter "Dance"
To Casey, who played softball all through her high school years – this was something she and her dad always did together. Since neither of them are big dancers, instead of a traditional father/daughter dance, they opted to have a father/daughter game of catch, while the DJ played "Stand By Me." It was the perfect fit for them!
Best Ceremony Entrance
To Aerial and Peter, for the seven-foot-tall canvas panels painted with their tree motif from the invitations, conceived by Aerial and built by her dad. As the music changed for Aerial's entrance, her two nephews slid the panels open for her processional down the aisle. What a fabulous entrance! Bonus points: at the reception, the panels became the backdrop for the photo booth!
Best Tradition In The Making
Aerial's older sister planned a time during the getting ready party of the day when she, the moms, and the rest of the bridesmaids would each present Aerial with something old, new, borrowed or blue. This was one of the sweetest things I've ever seen – Aerial was in tears as each of these special women in her life presented her with something memorable from their time together, to wish her luck and remind her of them. For example, her sister gave Aerial a ring that her husband had given her on their first anniversary. I'd love to see this tradition continue with other brides!
Best New Wedding Vendor
To Lauren and Andrew, for the wedding painter. This was quite possibly the coolest thing I've ever seen! Ben Keys of Wed On Canvas arrived a few hours ahead, and began painting a canvas of the room as set-up took place around him. He continued painting throughout the evening, adding in the wedding party and Lauren and Andrew themselves as they did their first dance. Not only was this enthralling for everyone to watch, it becomes a very special keepsake for Lauren and Andrew. I wish Ben had been around when I got married! I would absolutely have hired him!
---
Gratitude to all of my beautiful couples, their families, and our fabulous vendors who worked together to create unforgettable events.
Blessed Be and Namaste ❤️
Top photo courtesy of ArtStar by Laura Stone
Gallery 1 photos courtesy of Alecia Lauren Photography, The Reason, The Decisive Moment, ArtStar by Laura Stone, Reichman Photography, Renee Brock, The Studio B Photography
Gallery 2 photos courtesy of ArtStar by Laura Stone, Lauren Wright Photography, Alecia Lauren Photography, J. Rawlings Photography, Katy Cook, Tessa Marie Photography, Browne Photography
Gallery 3 photos courtesy of Leah and Mark & Co., Tim Harman, Matt Yung, Melissa Prosser, Scobey Photography, Alison Church, Laura Negri Photography
Redwings cake photo courtesy of ArtStar by Laura Stone
Jenga photos courtesy of Tim Harman, Katy Cook
Tree ceremony doors and bride gifts photos courtesy of Leah and Mark & Co.
Wedding painter photo courtesy of Tim Harman
Bottom photo courtesy of Scobey Photography