Today we are featuring one of our newlywed couples and their wedding advice as they look back on their wedding experience. Meet Ainsley and Erik, who were married at the Ritz-Carlton in Downtown Atlanta on June 9, 2012! They offer three pieces of advice for other couples:
1. They Say Memories Last a Lifetime – They Don't. Photos Do.
One of the areas where my husband and I spent the most money (and allocated the largest portion of our budget) other than the venue/catering was in media coverage. We knew that once the wedding itself was over, we wouldn't actually have anything tangible to remember it by other than our photos, so we wanted to ensure we had the best shooters possible. We also wanted to make sure that the wedding was covered fully and accurately so that 10, 20, 50 years from now we could look back and feel as if we were there again. We didn't want to take any chances risking sub-par photography, so we hired the best of the best.
We also opted for a videographer, because we strongly believe that it is better to have something and not need it than to skip something and wish you had opted for it, especially in the case of the wedding where there would be no "do overs"! Our advice to you is do not skimp on your photo/video coverage – this is a great place to spend a bit extra to really have stellar memories for a lifetime to come.
2. Hire a Planner and Actually Enjoy Your Wedding Day
One of the smartest decisions we made throughout the whole process was to hire our coordinator. Since neither of us had been married before, we had absolutely no clue what we were doing or where to begin. We hope, too, to never have to do this again and wanted to "get it right the first time." Daria was a tremendous help providing guidance, expertise, organization and exceptional patience during a couple of my wedding-planning-freak-out-moments.
On the actual day of she was invaluable. Both my husband and I (as well as our bridal party and families) were able to relax and enjoy the day without having to worry about logistical issues, vendor coordination, schedules, etc. We simply woke up, got ready, and enjoyed the day. Daria acted like a director and told us where we needed to be and when. It was a huge relief to not have to think after having spent almost two years planning a wedding. The end result was well worth it – the entire day was flawless and any issues that did pop up were completely unknown to us (we still don't even know if there actually were any). We had the wedding of our dreams and it was completely stress-free!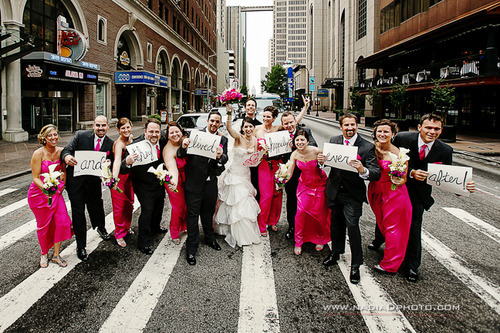 3. The Best Area NOT to Splurge Is…
…invitations. Seriously. I wanted our invitations to be beautiful, classically elegant and yet with a bit of edginess. Overall, I wasn't completely satisfied with how they came out and the stark realization that 99.9% of our guests were just going to toss them in the trash after the wedding was over anyway made me slightly ill once I realized how much we had spent on them. Think about it: when you get invited to a wedding, how often do YOU keep the other couple's invitation? Practically never. It can be a difficult fact to accept, but in the long run it's worth it to go with more cost-effective invitations and use the money you've saved elsewhere. I sure wish I had!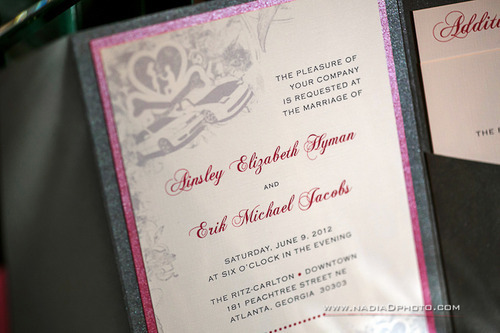 Congratulations, and thanks for sharing your thoughts on your beautiful wedding, Ainsley and Erik! We had a blast with you! Wishing you a lifetime of love.
Read more about Ainsley and Erik's wedding story here! Hint: it involves pink, sparkles… and car parts!
Photos courtesy of Nadia D. Photography