The wedding story of Clarissa and Tiffani (and their pups!), who were married on June 20, 2020, in Piedmont Park in Atlanta, Georgia. Rainbow sneakers, matching rings plus a canine ringbearer, and so much love!
---
Wow! Just wow! Daria is incredible… I was in GREAT hands. The absolute BEST hands. She treated my now wife and I like family. My wedding day was hectic even though it was a very tiny ceremony. She wiped my tears, and talked my wife and I through every moment. The ceremony itself was beautifully written. She interacted with my family and pups so well and dealt with the crazy heat of an outdoor wedding on the first day of summer with a smile on her face! She is the world's best officiant hands down!
~ Clarissa
I have so many favorite things to report about this beautiful wedding that I hardly know where to start. Well, when you don't know where to start, start at the very beginning (a very good place to start). It all began on June 13, 2020 when I received a call from Clarissa. It seems that their original officiant had gone AWOL a few weeks ago, and she and Tiffani were frantically searching for someone to marry them, who would be available in one week's time, and also good with same sex weddings.
Well, one of my very favorite things to do is say YES, and I was so happy to tell Clarissa I was available and thrilled to help. On to writing the ceremony!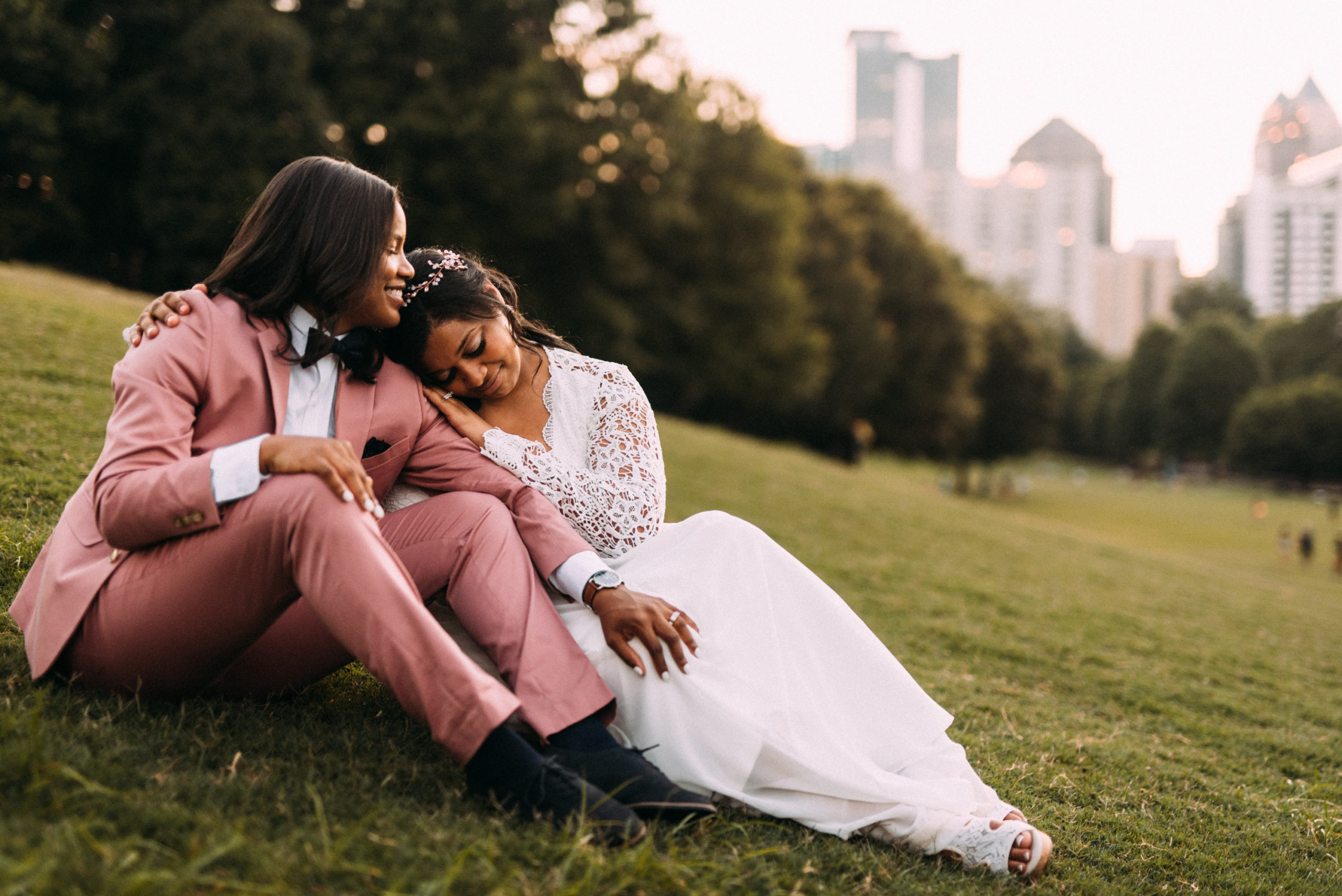 I quickly learned that one thing we have in common is that we are dog lovers (ok, dog-obsessed…). Clarissa and Tiffani have three precious pups (and a plethora of other animal friends, including a bunny and a turtle…and a future goat…). But Hazelnut, Domino and Chai actually got to come to the wedding because, you know… VIPs (Very Important Pups). Plus, Chai was our ring bearer, so obviously MIP (Most Important Pup) (sshhh, don't tell the other two…). They are so important that they are getting their own post shortly… stay tuned!
To honor her and Clarissa's adoration of their animals, it was only right that the reading Tiffani chose is called Falling In Love Is Like Owning A Dog, by Taylor Mali. It was perfect for them! And "perfect" (one of my favorite words!) became our inside joke, because their song is Perfect by Ed Sheeran, and we found an acoustic version to play at the start of the ceremony (by Guitar Tribute Players). From then on, (as the pieces kept falling right into place) we cracked ourselves up every time we said something was perfect!
Soon enough it was Saturday, and the weather dawned (guess what…) perfect! We headed down the park along with the rest of quarantine-weary Atlanta, and Clarissa and Tiffani met for some sweet First Look photos before we began the ceremony in the perfect spot overlooking the lake, which they had scouted out the prior week. It was actually quite serendipitous that it was open for us, because I will say that having a ceremony in the middle of Piedmont Park is not exactly private… there are LOTS of people around.
We gathered with Clarissa and Tiffani's parents, siblings, and surprise guests Clarissa's aunt and uncle from Boston, and Clarissa and Tiffani exchanged heartfelt vows and their matching rings, and did a unity sand ritual to seal their union.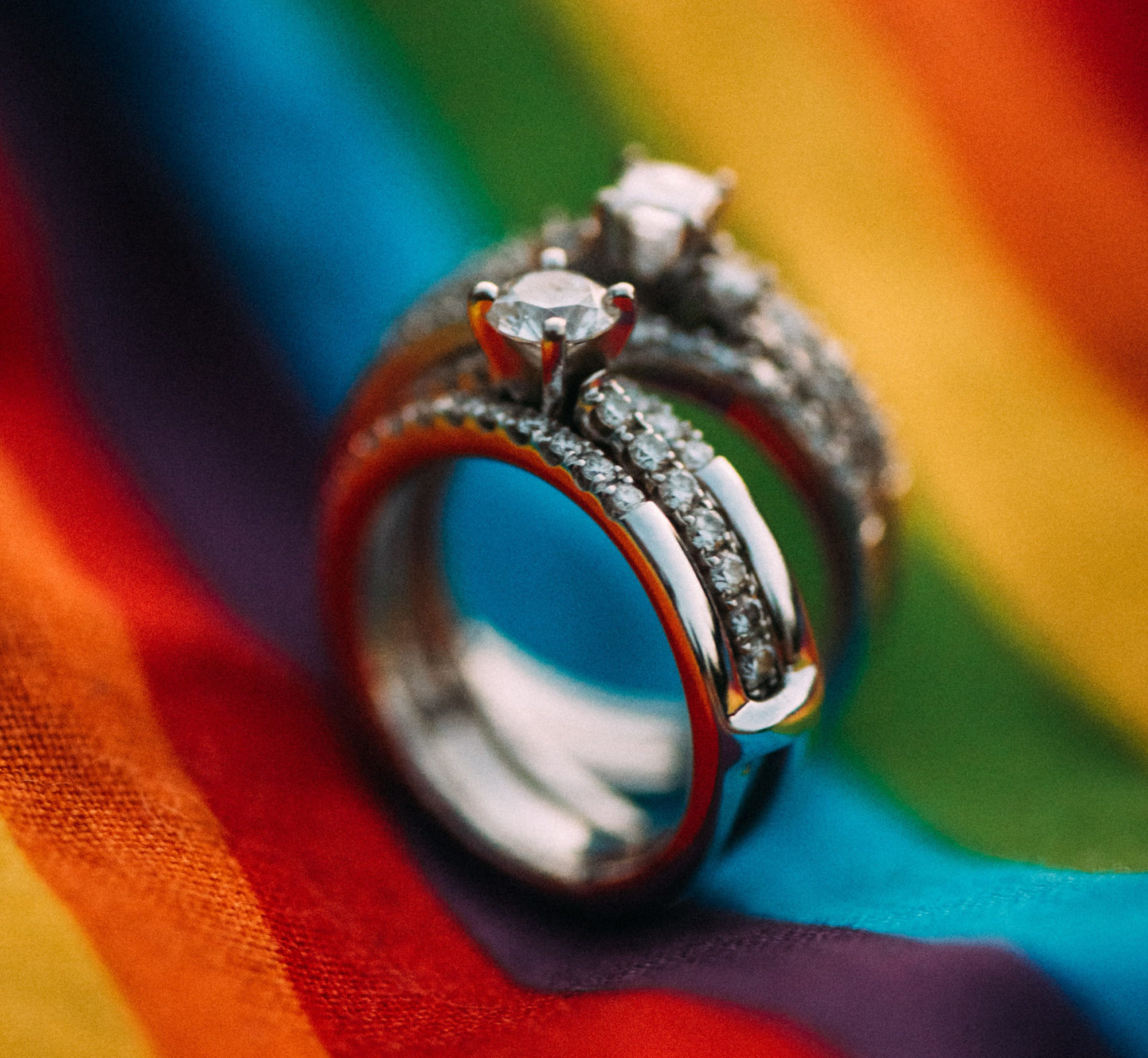 Look how cool these rings are: first of all, they match (love it!); and second, the diamond rings slide in the middle between the two outer bands, so it becomes one ring made out of three bands! Thirdly, brilliant photo of the rings on the rainbow flag!
One of the great things about tiny weddings is you have complete flexibility of timing, because you have everyone with you. So even though we started a bit past our planned time, it ended up fine in the end (perfect!), because the light was amazing and the heat had dissipated a bit. Clarissa and Tiffani got some amazing shots around the park post-ceremony, and then headed to a late-night dinner with their family.
Come on, y'all – these sneakers!! THE BEST! (Regular readers may begin to notice I am a bit shoe-obsessed…)
And all the rainbow details bring me to what is actually my favorite favorite part of this amazing wedding: the beautiful couple, Clarissa and Tiffani themselves. Two Black brides marrying during Pride Month; the day after Juneteenth; in Atlanta, site of important civil rights and social justice work that changed the world in the past and is poised to do so again.
I'm beyond grateful for Clarissa and Tiffani, because in addition to the normal joy of performing a wedding, they allowed me to put into action the intentions of Circle of Love Weddings.
Thank you, Clarissa and Tiffani, for giving me the chance to say yes and help you.
Thank you for the opportunity to serve ALL couples with love.
#loveislove #blacklivesmatter
Thank you for inviting me into your lives, to share in your love story.
Because that's what it's all about, weddings (and life!): connecting with each other and sharing the love, no matter who we love or what our bodies look like. Love is Love. And it's ONE love, connecting all of us. That's what Circle of Love Weddings stands for, and what I'll always do as sacred service.
It's moments like this that make my heart sing. This is love in action, right here. And it's my honor to be a part of this beautiful love story. In these uncertain times, two things remain certain: Love keeps on winning, and it can never be canceled!
Congratulations, Clarissa and Tiffani! Wishing you and the pups and the rest of the menagerie (including the coming-soon goat) and your future multiple kiddos a lifetime of love!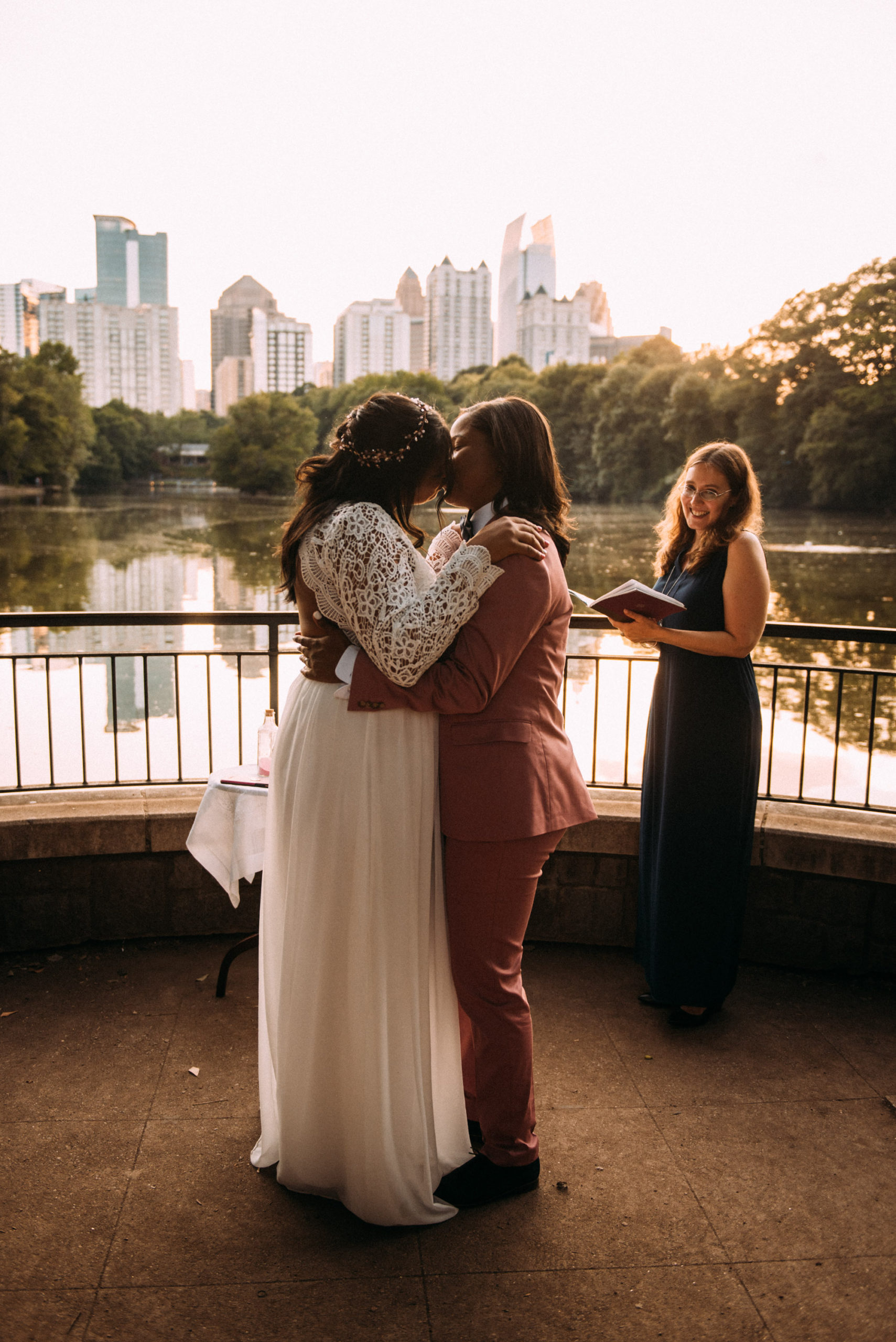 ---
Coda
The name for this post just popped into my head, and I was thinking, wait, I think that's the name of a song. Turns out it is, and please check out how perfect these lyrics are for the summer of 2020, for a summer wedding day in the park as quarantine is opening up and social justice is happening! (Change Fourth of July to Juneteenth to make it even better…)
Saturday In The Park, by Chicago
Saturday in the park,
I think it was the Fourth of July
Saturday in the park,
I think it was the Fourth of July
People dancing, people laughing
A man selling ice cream
Singing Italian songs
Everybody is another
Can you dig it (yes, I can)
And I've been waiting such a long time
For Saturday
Another day in the park
I think it was the Fourth of July
Another day in the park
I think it was the Fourth of July
People talking, really smiling
A man playing guitar
And singing for us all
Will you help him change the world
Can you dig it (yes, I can)
And I've been waiting such a long time
For today
Slow motion riders fly the colors of the day
A bronze man still can tell stories his own way
Listen children all is not lost, all is not lost, oh no, no
Funny days in the park
Every day's the Fourth of July
Funny days in the park
Every day's the Fourth of July
People reaching, people touching
A real celebration
Waiting for us all
If we want it, really want it
Can you dig it (yes, I can)
And I've been waiting such a long time
For the day, yeah yeah