Or, a story about my (Amanda's) deep love for vintage dishes!
It wasn't two days after Matt and I got engaged that my mom called me while we were spending time at the lake and asked, "do you think you are going to want silver-rimmed china or gold-rimmed china for the reception?" To which I replied, "I thought we would use paper plates?" My mom had been looking up china rentals and discovered that the cheapest we could rent the china was for $.65 a piece. We knew we could do better than that. So we decided to buy our own china!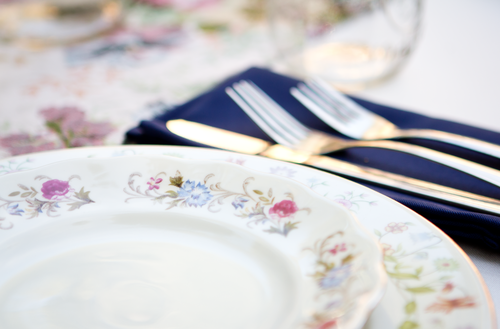 We decided to buy our own china because 1) you can get some really great deals from thrift stores (believe us, we wipe them out), 2) we really like how mixed and matched china looks, and 3) we love to hunt for great deals. As of late, most of the conversations I have with my mom start with, "you won't believe how much china I just bought."
Mrs. Diane, Matt's mom, has been so incredibly sweet and is letting us use her china as well as other sets of china from Matt's great Aunt Francis, grandparents and great grandparents! She said, "We never use our china, if it gets broken, at least it was being used for something." Which means that we will have family china used at our reception and that makes me so very happy.
Mrs. Kelli, my best friend Lily's mom, has been gathering china in Birmingham, my mom covers the Newnan scene, and my friends and I make sure to canvas all of Auburn and Opelika. I have become friends with sweet sweet people who work at the Salvation Army in Newnan and Mr. Roland of Roland's Thrift Store in Opelika. They are almost more excited than I am when they have china brought into their stores!
We buy everything as long as our average is below $.65 a piece (and Mr. Roland makes sure to keep the average extremely low) – and we have managed to get something that we like better than the traditional china selections! Matt and I will not be registering for china. We will have over 250 place settings to choose from!
We have 165 place settings right now, so about 100 more until we are done!