The wedding story of Sam and Joey, who were married June 27, 2015, at White Oaks Barn in Dahlonega, Georgia. The weather was somewhat stormy, but it was smooth sailing for this beautiful couple's mountaintop wedding.
---
Thank you for making our big day amazing! ~ Sam
Sam (from Georgia) and Joey (from Alabama) both work in Sam's family business (they own a chain of thrift stores in Atlanta). They met on the job, and as one of the fun facts on their water bottle labels stated, Sam didn't like Joey at first because he got the promotion she felt she deserved. Things eventually worked out, and Sam and Joey, with help from Sam's mom Debbie, were soon planning their wedding at White Oaks Barn In Dahlonega.
A beautiful property just 20 minutes outside of the historic Dahlonega Square, White Oaks Barn was built as a venue for the owner's daughter's wedding in 2012. It's fairly unique as far as barns go, having air conditioning and nice bathrooms – a priority not only for the owner's daughter, but for Sam as well!
Sam and her mom, with the help of our floral designer, created a summery palette of navy blue and apple green, with flowers in shades of white, blue and green, accented with silver and mercury glass. We were sure the barn had never looked so fancy!
After a full day of wedding events on Friday, the wedding day dawned with an 80% chance of rain. No worries! Sam and Joey had their first look photos as it drizzled, and as the forecast rapidly changed, we made the decision to move forward with the outdoor ceremony, sited on a gorgeous bluff with sweeping views of the surrounding mountains. I had a few moments of worry as thunderclouds gathered just as I was lining up the processional, but the bride and her father arrived in a vintage Rolls Royce; Sam and Joey got married; and the rain held off until a fierce storm swept through during dinner. By that time guests were inside enjoying a grits station and carved tenderloin, plus lots of local veggies, so no one even noticed.
A wedding cake with three different flavors served as dessert, and guests sampled eight different varieties of jellybeans as they danced the night away.
There were so many fun details: from sunglasses and custom tissue packages for the ceremony, to personalized water bottles, to the table numbers, which were all photos of Sam and Joey and their precious pup, Watson. For escort cards, Sam provided small silver frames, which later held the photos guest took in the photo booth (which had been specially sized to fit the frames). That's the kind of attention to detail I really appreciate!
My Favorite Detail
As a wedding present, for "something old," Sam's mom gave her a beautiful aquamarine necklace. Debbie later shared the story of it with me: her husband Tom gave it to her over 20 years ago when he was having a bad day…giving it made him feel better and happy. She said she wants to pass on the happiness. So sweet!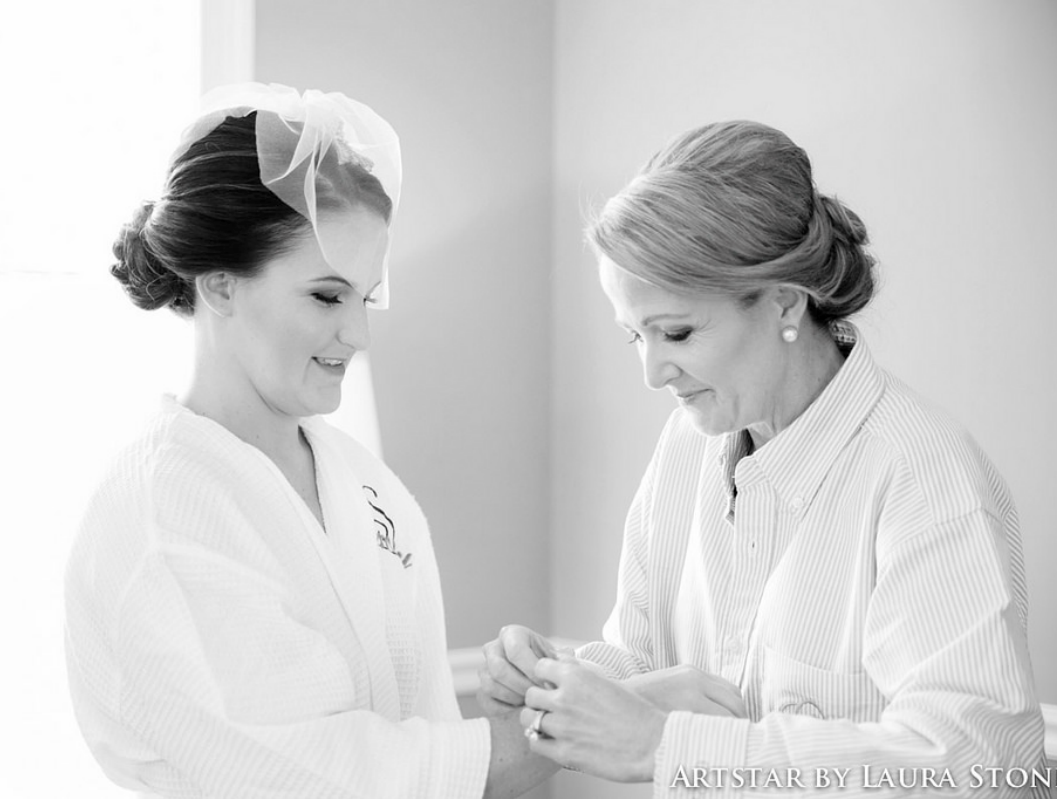 My Favorite Moment
The rainstorm cleared away just in time for the photographer to capture some fabulous sunset photos of Sam and Joey. While we were outside taking those, I was reflecting on the day, and marveling at how wonderfully everything had worked out and how all our hopes for the wedding had come true: the weather cooperated, the family drama that Sam was worried about never came to fruition, and she and Joey had enjoyed many special moments over the weekend. The power of positive thinking!
Thank you for being a Circle of Love Weddings couple, Sam and Joey! Wishing you a lifetime of love together, rain or shine!
Photos courtesy of Laura Stone Photography (formerly Artstar)
---
Venue and Services
Ceremony and Reception White Oaks Barn
Officiant Pastor Mark Gainey
Photographer and Photo Booth Laura Stone Photography (formerly Artstar)
Videographer Wages Films
Hair and Makeup Brushworx
Catering White Oaks Barn
Baker Sugar Kneads (no longer in business)
Florist Faith Flowers
Band Class Act
Transportation Appalachian Transportation and Dahlonega Square Hotel
Host Hotel Dahlonega Square Hotel
Stationery and Paper Goods DecoMarj
Rehearsal Dinner Dahlonega Market Place
Rehearsal Dinner Catering Events by Dezine
Wedding Gown Bridals by Lori
Alterations and Veil Linda Gillentine (no longer in business)