The wedding story of Kathryn and Kyle, who were married November 9, 2013, at Sun In My Belly in Atlanta, Georgia. Shrinking from 200 to 20 guests, this tiny wedding was a dream come true!
---
All your help, advice and organization were key in us having the day of our dreams! ~ Kathryn (bride)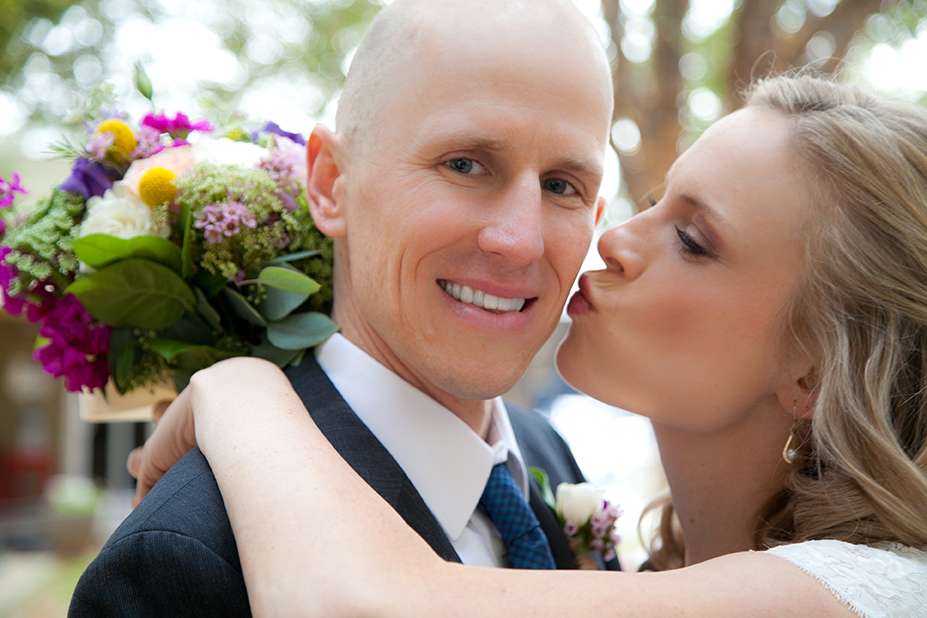 Planning this wedding was very interesting, because when Kathryn and Kyle first contacted me, they were creating a "normal" size wedding of around 200 people. However, shortly after they hired me, they called me with some big news: they had scaled down…WAY down…to about 20 people! I was happy that they kept me on to help them with the planning of their tiny wedding, and as it turned out, there was actually just as much to do as there would be with a larger wedding: hiring and coordinating the vendors, planning the details, creating an event schedule, and making sure nothing was forgotten.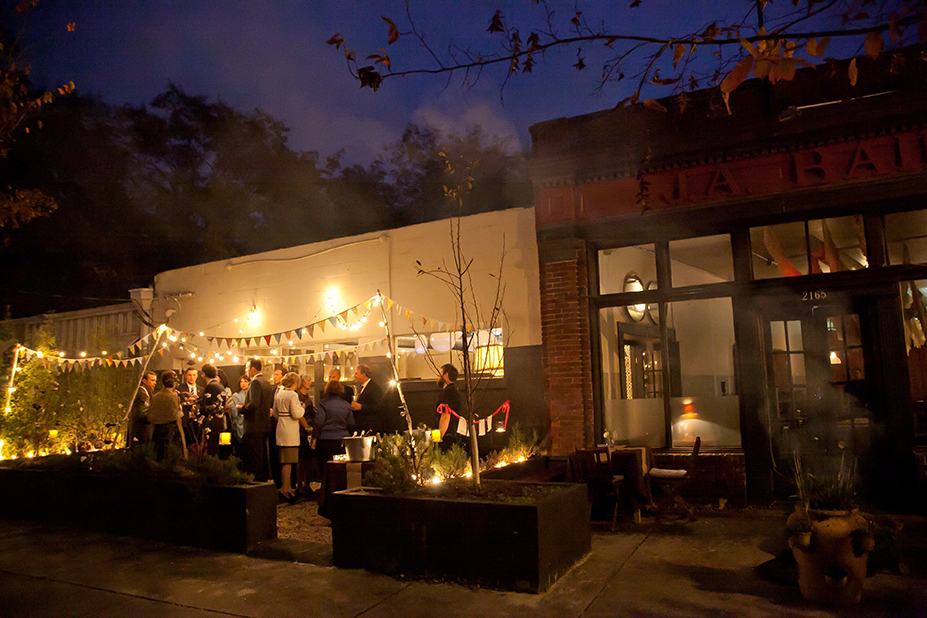 Although Kathryn originally planned for the ceremony to be at East Decatur Station (a shop and restaurant complex that her dad owns), we ended up doing both the ceremony and the reception at Sun In My Belly restaurant. Kathryn still opted to get ready and have their First Look photos at East Decatur Station, though, which was a perfect compromise.
Kathryn and Kyle created an intimate ceremony that was officiated by a friend, and which included readings from The Prophet by Khalil Gibran as well as a book on running (a shared passion), Again To Carthage by John L. Parker, Jr. This book is a sequel to one of Kyle's favorite books, Once A Runner, about a track runner in a town based on Gainesville, FL (University of Florida, where Kyle went) (Go Gators!!). In Again To Carthage, the main character moves from track to marathons; an apt metaphor for the progression of a relationship from dating to marriage. In fact, it was after Kathryn and Kyle did the Ironman last year in Hawaii that they decided to get married!
The Sun In My Belly patio and private dining room were fabulously decorated by two friends of theirs (whose stated goal was to bring Kathryn's Pinterest board to life – I'd say they succeeded!). For such a small space, the amount of detail was simply incredible, and Kathryn was thrilled. A highlight was the photo table laden with family photos, and the photo guest book.
After a brief cocktail hour on the patio, everyone came inside and found their seats for dinner (each marked with a tiny pot of herbs, grown from seed by Kyle, and a flag with their names).
The big square table (two 8'x4′ tables placed together) made for such a lovely space for the group to dine together. It was the perfect size because everyone could see each other and talk, and there was plenty of room in the middle for decor, and around the edges for the plates and glassware.
As the dinner was served, in Quaker tradition, every guest gave a toast, or just spoke some words from the heart about Kathryn and Kyle.
After dinner, they cut the cake, which was lovingly baked by Kathryn's dad; and guests enjoyed the candy bar and wedding Mad Libs. An after party in downtown Decatur followed (in lieu of dancing). In the end, it was just what they wanted and I'm so glad they didn't bend to pressure to do anything else.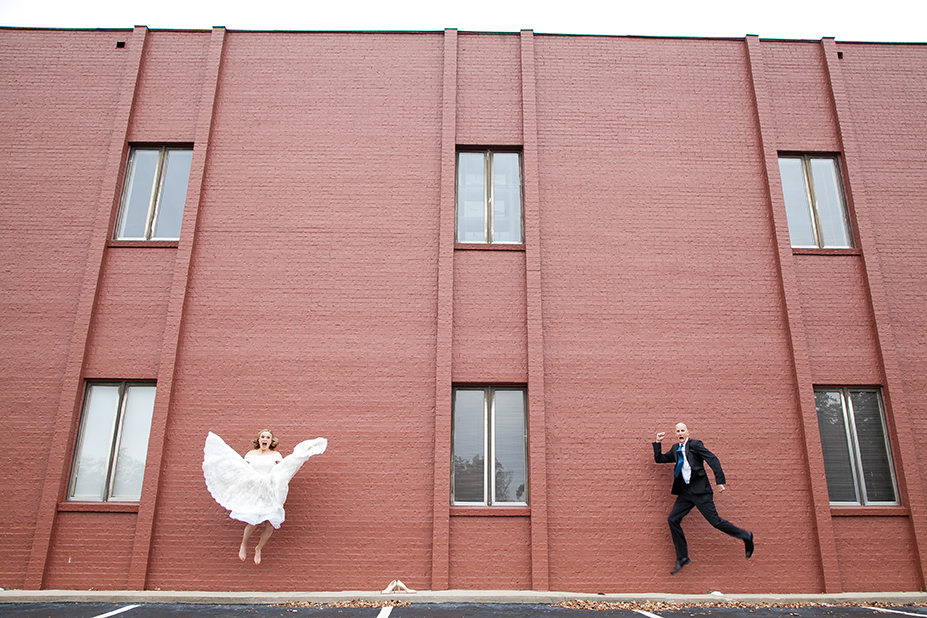 Congratulations Kathryn and Kyle, and thank you for being a Circle of Love Weddings couple – so glad we stuck together! Kathryn, I will always remember your beautiful smile… every time I saw you, you were smiling – what a joy! May those smiles continue, and may your dreams keep coming true. Your tiny wedding was just perfect and I wish you and Kyle a beautiful life together!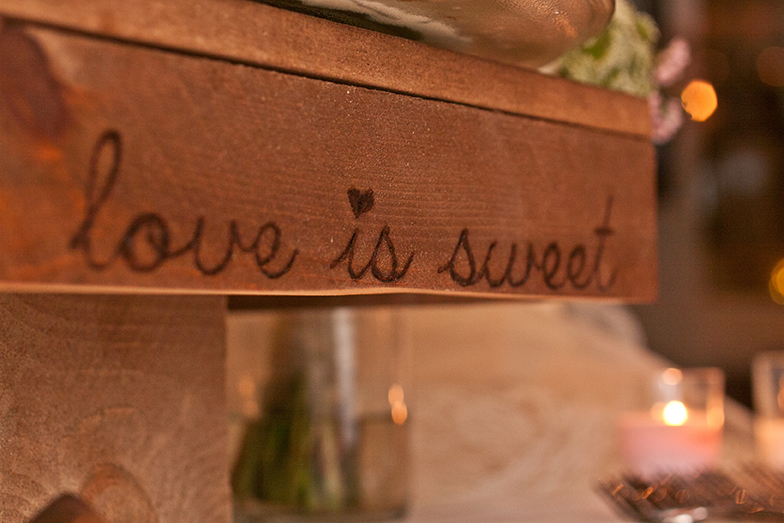 ---
Venue and Services
Ceremony and Reception Sun in My Belly
Getting Ready Location
East Decatur Station

Photographer
Photo by Gannon

Hair and Makeup
Stylist Kori Smith

Caterer
Sun in My Belly

Guitarist
Walter Biel

Decor
Betty Janelle and Anna Godfrey

Baker
Father of the Bride

Officiant
Matthew Rose

Gown
Sweet Elegance