A retrospective of 15 years of our celebrations of love. These are the stories of a wonderful year. Welcome to 2010!
At the start of a new decade, we were still in the Great Recession, but there were glimmers of hope. My clients were pretty evenly divided between big and fancy weddings, and budget-friendly DIY extravaganzas at gardens and private residences – a dichotomy that would continue for several years.
Crazy Weather
From Snowmageddon to thunderstorms to extreme heat, this was a year of very interesting weather! A fainting FOB; freak lighting that drove us to move the ceremony inside 10 minutes before guest arrival; storms that kept outside the venue's force field to allow us to hold an outdoor reception despite torrential rain around the venue in all directions; and other incredible stories characterized this wonderful fifth year of Circle of Love Weddings' service.
Hello Pinterest!
Did you know… Pinterest officially launched in June 2010. Wedding planning life would never be the same! No longer did couples come in to visit their designers juggling a slippery stack of magazine clippings… all the inspiration pictures were neatly organized online. And an era of wedding crafts was also born, as the excitement of creating your own signs, favors, guest books, banners, and more rose to ever-greater heights.
The Little Green House
I also opened my small venue in Downtown Norcross, Georgia: Camellia Blossom Cottage, which hosted small weddings and parties, and also served as my office and a collective for wedding professionals.
Working with Daria for an entire year was an extraordinary experience. From the very beginning Daria took the time to really get to know us, our families and what we envisioned for our wedding weekend. She is thoughtful, attentive and super detailed. This along with her incredible knowledge of various cultural customs, relationships with amazing vendors and hard work makes Daria one of a kind. I remember telling Daria at one of our planning meetings that she was "like a priest, wedding planner, best friend, and therapist all in one." Trust me–you'll see! ~ Joyce
2010 Events
Meghna & Khalil, married January 2, 2010 at the Holiday Inn Decatur Conference Plaza in Atlanta, Georgia. Khalil's family owned this hotel at the time, and all the stops were pulled out for a beautiful Indian wedding celebration.
---
Cinderella & Steven, married January 16, 2010 at the St. Regis Hotel in Atlanta, Georgia. Cinderella is a well-known Taiwanese opera singer, who sang an aria as a surprise gift to her guests. Magical!
---
Emily & Charlie, married February 13, 2010 at the Trolley Barn in Atlanta, Georgia. They fled Washington, D.C. just ahead of "Snowmageddon," arriving in Atlanta right on time for a (by comparison) tiny snowstorm. The Trolley Barn was cozy inside, and a good time was had by all!
---
Anne's Shower, February 27, 2010 at a private home in Atlanta, Georgia. Families like this are one of the absolute gifts of my wedding life: I am so grateful for the opportunity to assist with multiple events over the years. Mirroring my work with her sister-in-law in 2007, I coordinated Anne's shower and then the wedding. Anne liked the candy bar so much, we duplicated it at the wedding!
---
Anne & Colin, married April 9, 2010 at The Day Chapel at the State Botanical Garden and Trumps Ballroom on Milledge in Athens, Georgia. A hilarious highlight: my father-in-law (one of the guests) setting a tablecloth on fire during the reception…memories!
---
Cameron & Stephen, married April 10, 2010 at Cator Woolford Gardens in Atlanta, Georgia. The wedding at which I fell in love with this amazing venue! And learned the importance of a professional caterer.
---
Laura & John, married April 24, 2010 at Houston Mill House in Atlanta, Georgia. Rain drove us inside, but the candlelit room glowed as the couple spoke their vows in front of the cozy fireplace.
---
Marina & Norman, married May 15, 2010 at Houston Mill House in Atlanta, Georgia. This wedding is the above-mentioned one where the thunderstorms miraculously avoided us. But what I really remember is Marina arriving from Brazil just three weeks ahead of the wedding, and how I drove her all around Atlanta as we hired the florist, baker and other vendors, and bought her gown and the bridesmaids' gowns! Good times!
Martha & Erich,
married May 22, 2010 at Smith-Gilbert Gardens in Kennesaw, Georgia. A fully outdoor venue that had never hosted a wedding before, a heartfelt ceremony beneath a magnificent tree, bonsai trees, nine cakes, and an ambulance having to come when Martha's father fainted due to the extreme heat. Just another day in the life of a wedding planner, don't you know!
(He was fine in the end, thank heavens!)
---
Joyce & Allan, married May 29, 2010 at Sacred Heart Catholic Church and the Westin Peachtree Plaza in Atlanta, Georgia. At this wedding, I learned how to deal with hysterical flower girls who refuse to walk down the aisle (don't force them), and parades that march by the church during the wedding (don't tell the bride so she doesn't stress). I also learned about the small sect of Indian Catholics and their beautiful traditions!
---
Laura & Thomas, married June 5, 2010 at Cator Woolford Gardens in Atlanta, Georgia. Laura's mom told me later that the best money she spent on the wedding was me… and the tent fans! It surely was warm (ok, HOT) and those fans saved us! I also really loved their Best Marriage Advice guest book. Brilliant!
---
Josey & Michael, married June 12, 2010 at King Plow Arts Gallery in Atlanta, Georgia. There were so many amazing decor details, but best of all was Josey's long and flowing veil covered with fabric flowers!
---
Lisa & Jeff, married June 26, 2010 at Christ the King Church and The Four Seasons Hotel in Atlanta, Georgia. A classically beautiful wedding marred after the fact when the well-known photographer disappeared and never provided the photos. Ugh!
---
Marisa & Dave, married July 4, 2010 at the Emory Conference Center Hotel in Atlanta, Georgia. A classic Jewish wedding beneath a baby's breath huppah – the hotel atrium felt like being in a garden!
---
Catherine & Jon, married July 31, 2010 at Cator Woolford Gardens in Atlanta, Georgia. This wedding was plagued by weather issues, but the couple and the guests had a fabulous time no matter what! Proving that once again, love conquers all!
---
Jennifer & Andrew, married August 28, 2010 at the Ritz-Carlton Lake Oconee, Georgia. The groomsmen worked hard to keep the huppah from falling over during the high winds occurring during the outdoor lakeside ceremony, and luckily they succeeded!
Lopa & Ryan,
married September 18, 2010 at the Hyatt Regency Atlanta and the Georgia Aquarium in Atlanta, Georgia. A Hindu ceremony and luncheon in the morning, and an American-style reception in the evening – best of both worlds!
---
Gloria & Richard, married September 25, 2010 at Log Cabin Church and their home in Atlanta, Georgia. This little chapel was SO adorable, and the reception in the couple's backyard was sweet and memorable. Also, Miss Mamie's cupcakes!
---
Kindra & James, married October 2, 2010 at Cator Woolford Gardens in Atlanta, Georgia. My fourth wedding (so far) this year CWG, and I've never seen the ceremony area so beautifully decorated, with petals in fall colors carpeting the aisle and hanging candles interspersed in the vines on the gazebo.
---
Kristin & Greg, married October 9, 2010 at the Ritz-Carlton Buckhead Hotel, in Atlanta, Georgia. I worked mainly with Kristin's mother to plan this elegant wedding – a highlight was the photo booth that was so busy the entire night!
---
Megan & Jon, married October 17, 2010 at Mason Murer Fine Art in Atlanta, Georgia. At this wedding I learned about the Jewish tisch: "loud and atmospheric boy-time before the ceremony starts." (Wikipedia) Luckily they did not participate in the traditional plate and glass smashing, much to the caterer's relief!
---
Keely & Traves, married October 23, 2010 at Cator Woolford Gardens in Atlanta, Georgia. This sweet couple was planning long-distance from California. I loved all the bright colors and the Moroccan tea glasses. Oh, and the Jamaican rum cake for Traves's groom's cake!
---
Danielle & Jim, married October 30, 2010 at St. Benedict Catholic Church and The River Club in Suwanee, Georgia. Danielle was super excited about the s'mores around the fire pit!
---
Kim & John, married November 6, 2010 at Sacred Heart Catholic Church and 200 Peachtree in Atlanta, Georgia. This was the first wedding at the newly renovated Macy's building in Downtown Atlanta, and it was a stunner!
Best Centerpieces Award
To Martha's dad, who provided bonsai centerpieces from his carefully nurtured collection. A unique and beautiful personal touch!
Best Cupcakes Award
To Miss Mamie's, baker of the sublime chocolate Guinness cupcake (as well as many other delectable flavors). I first tried these amazing specimens at Gloria and Richard's wedding, and have not found a better cupcake yet! If you find yourself in or near the historic Marietta square, you must pay Miss Mamie's a visit!
Calm Bride Award
To Catherine, who, when I told her we had to move the ceremony into the indoor pavilion due to dangerous lightning (this happened 10 minutes before guest arrival!), smiled and said, no problem – we're still getting married! The room was set for dinner, so we sat the guests at their tables and it was so beautiful. The rain cleared up afterwards for photos in the garden and all was well.
Venue of the Year Award
To Cator Woolford Gardens, my new forever favorite. I just feel peaceful the moment I drive in the gates, every single time. Plus, the event profits go straight to the Frazer Center, a center for children and adults with developmental disabilities. It's a challenging venue in many ways… since it's outdoors, the neighbors have been in a heated battle to maintain quiet, and the venue has striven mightily over the years to work with them, while still allowing couples the use of this unique gem of a venue. It's something special… there's no place like it!
Best Unity Ritual Award
To Kindra and James, who wrapped up their ceremony with a shot of vodka!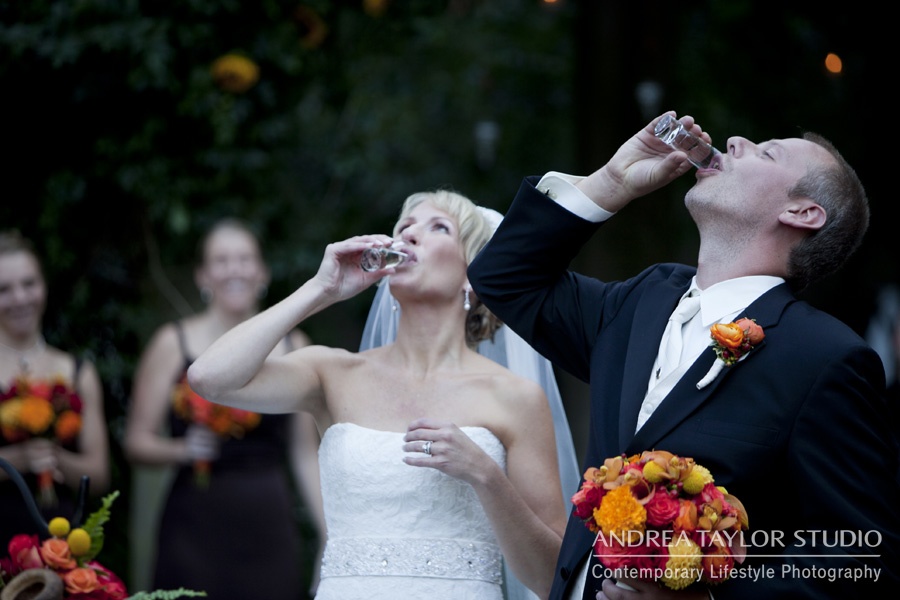 ---
Gratitude to all of my beautiful couples, their families, and our fabulous vendors who worked together to create unforgettable events.
Blessed Be and Namaste ❤️
Top photo courtesy of Our Labour of Love
Gallery 1 photos courtesy of Renée Brock, Gene Ho, Jason Thrasher, Achor and Eden Photography, The Studio B Photography, Lamar Gee
Gallery 2 photos courtesy of The Studio B Photography, Art Pinney, Nam Nguyen, Lapid Photography, Solstice Images, Gloria Slaughter, Alecia Lauren Photography
Gallery 3 photos courtesy of Renner Foto, Kristin Lynch, Andrea Taylor Studio, Valore Photography, Jennifer Boxley Photography, Brenda Bunch Photography, Alecia Lauren Photography, Our Labour of Love
Bottom photo courtesy of Andrea Taylor Studio
---
Camellia Blossom Cottage
The little green house in Downtown Norcross, Georgia was so cute and cozy!