The wedding story of Liana and Francis, who were married January 27, 2018, at the bride's family home in Tampa, Florida. Guests thought they were coming to a birthday party; they got a wedding too!
---
Daria made us feel at ease in the months leading up to our big day, and especially on the day itself. She made sure the ceremony had all the elements we wanted and provided great ideas on how to incorporate each of those elements into our wedding. The end result was an absolutely beautiful ceremony – there wasn't a dry eye! Throughout our wedding day, she made sure everything flowed seamlessly. Thanks to Daria, my dream wedding became a reality – a special day my husband and I will never forget! ~ Liana
Full disclosure: Liana is my niece (my husband's sister's oldest daughter). I've known her since she was a toddler. When she asked me to officiate her wedding, I immediately burst into tears (which of course made her do the same!). For years I'd dreamed of doing this service for her, and it was such an honor for her to ask me.
Once we got past the crying, we got down to planning the ceremony. And what a ceremony it was! If there was a tradition to be included, Liana and Francis wanted to do it. We had a ring warming, a hand fasting, a reading, a personalized love story/homily, a unity candle, and of course the traditional vow and ring exchange. It was lengthy, but it was so lovely, and perfect for them – which is, of course, what matters!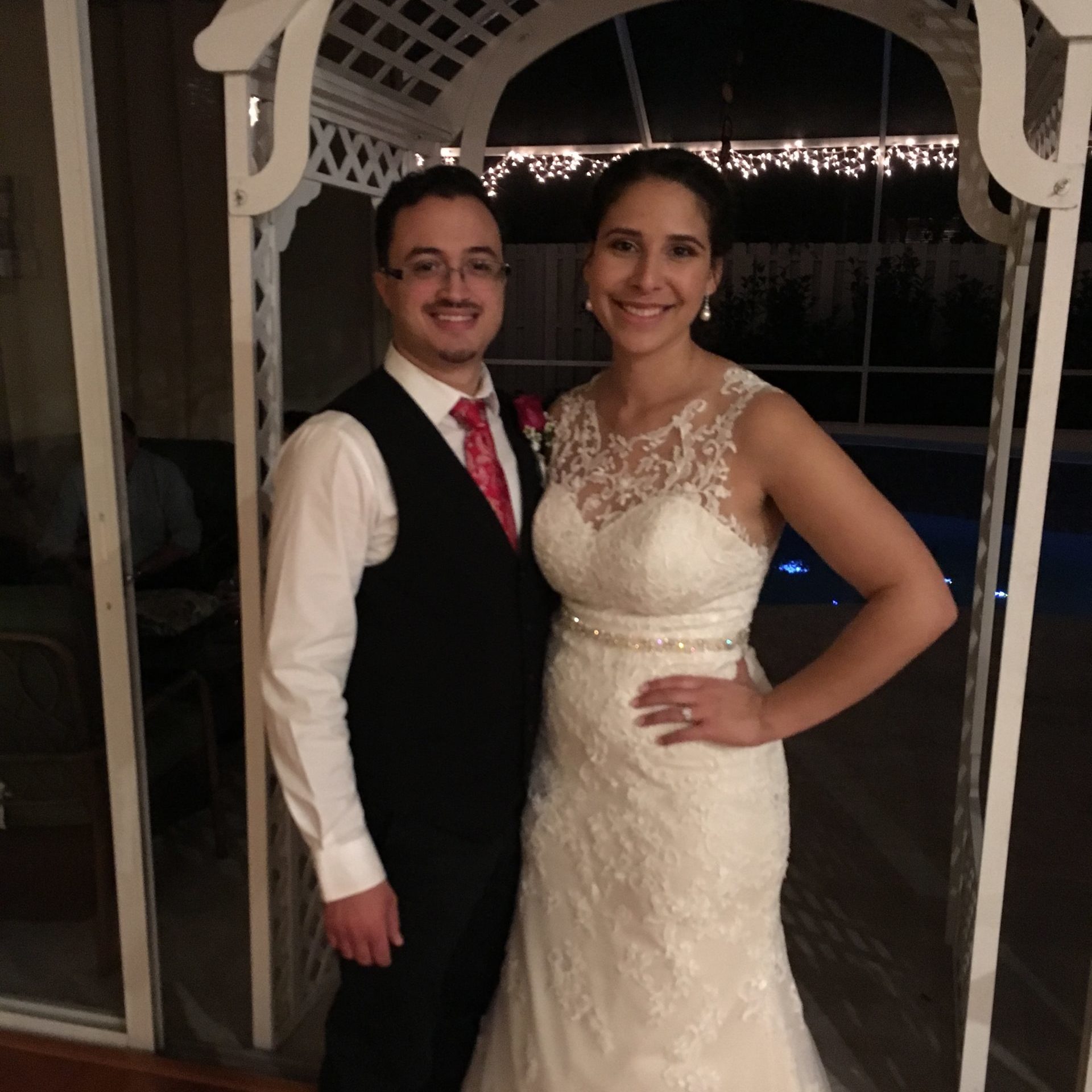 A Surprise Ceremony
So what about the surprise part? Well, this sweet couple had an experience similar to that of many other couples: they found themselves deep in the hoopla of the wedding world as their planning progressed. They had a club booked, a dinner for 100 planned, a DJ hired, and all the other trappings of a large wedding. But one day in December, Liana called me and asked what I thought about moving the wedding up. She and Francis felt they were spending way too much money and energy, and they were pulling the plug on the big wedding.
Turns out the family was planning a milestone birthday party for Liana's mom on the last weekend in January. Liana and Francis hatched a plan to gather all the guests in the main room of the house during the party, telling them there would be some speeches. Instead, we'd pull out the ceremony decor, Liana and Francis and I would appear in our wedding finery, and we would have a surprise wedding ceremony!
The surprise came off perfectly and pretty much as we planned it (although by this time, about half the guests were in on the secret due to various logistical duties!). The ones who didn't know were really surprised, and everyone had a fabulous time at this party unlike any other!
My Favorite Moment
One of my fondest memories of this happiest of days is at the end of the event, when I heard Liana's mom say that this was the best day of her life – celebrating her birthday and the wedding all at once, with all her closest loved ones.
In the end, Liana and Francis really listened and followed their hearts to create the wedding THEY wanted. It had everything that was important to them, and nothing that wasn't. What a lesson for wedding planning – and for life!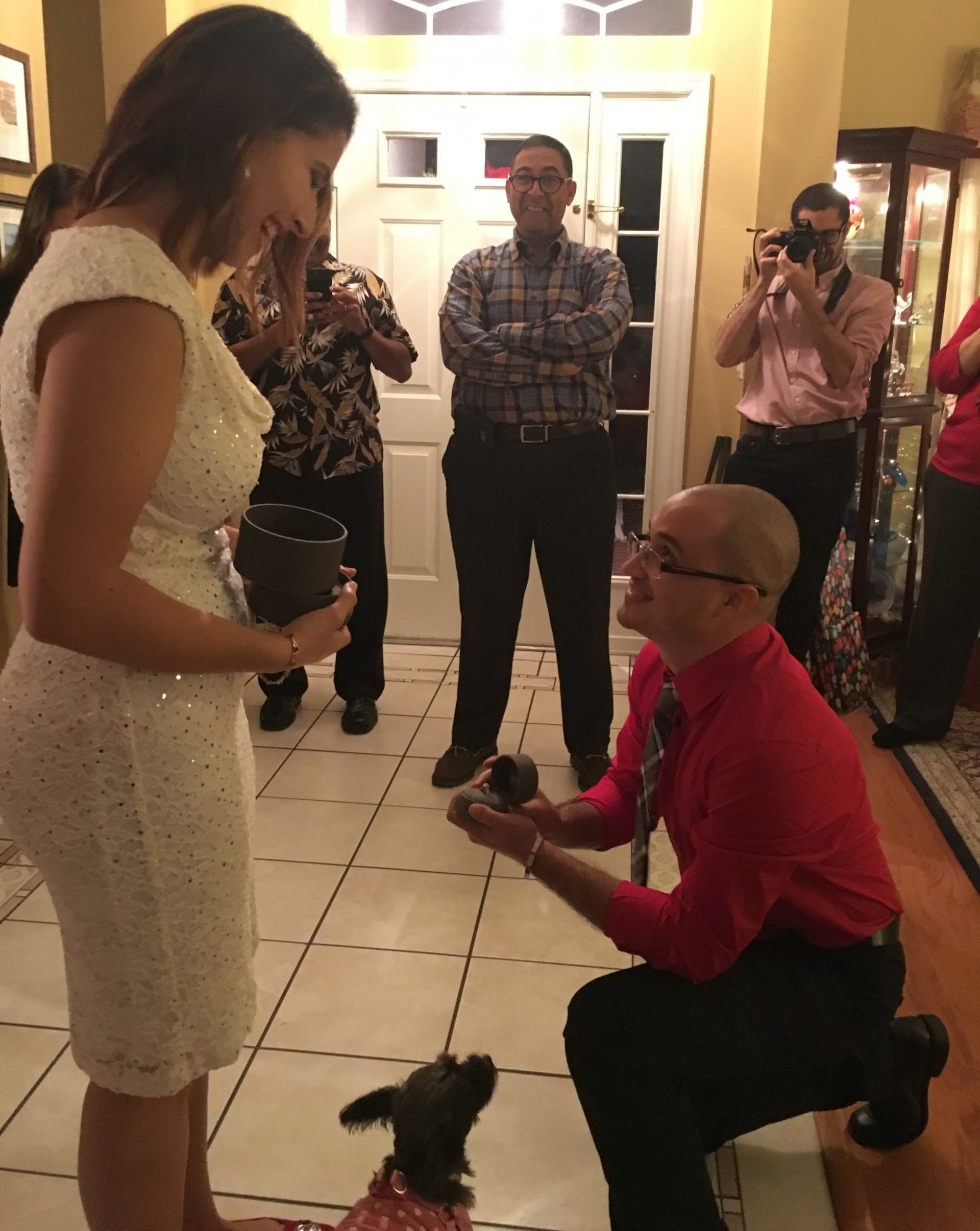 To bookend the story, here's a photo of Francis proposing to Liana on Christmas Eve 2016, in the foyer of the very house they would marry in. The brave soul got down on one knee in front of her whole family, including Toby, one of their dogs!
Words can't adequately express my joy and gratitude for this wedding so I'll just say this:
Blessed Be, my dear ones. Blessed Be.
Wishing you all love, always.
---
Services
Photographer Distinguished Reflections
Caterer Sonny's BBQ
Cake Your Fondant Memories
Florist What Really Matters, Inc.
Gown The White Magnolia