A retrospective of 15 years of our celebrations of love. These are the stories of a wonderful year.
Welcome to 2012! It was a year of creative and amazing decor, some DIY and some by the pros: from winter wonderlands… to outdoor picnics… to Cinco de Mayo… to pink, sparkles and car parts… to a patriotic theme to honor a wounded Iraq veteran groom… to Georgia peaches, and last but not least, sea turtles at Fernbank!
---
Hiring Daria was the BEST wedding planning decision my husband and I made. We could not possibly have been happier with the results, and it was all thanks to her attention to detail and thoughtfulness. She was always quick to respond and answer the phone, and helped us make big, potentially difficult decisions. On the day of, she intercepted vendors so that she could deal with their inquiries personally. I didn't have to worry about a thing, and I just enjoyed the day with my new husband. She also has a way of going the extra mile and making it seem totally effortless, it definitely added to my sense of calm on the big day." ~ Shannon (bride)
2012 Events
Catherine & Eric, married January 14, 2012 at The Wimbish House in Atlanta, Georgia. I love the elegant, traditional photos they were able to get in this gorgeous mansion-turned-women's club.
---
Christie & Matt, married January 21, 2012 at Berkeley Hills Country Club in Duluth, Georgia. Christie and her mom had so much fun creating all the decor themselves – with a twist: not one flower. Their favorite? The lighted trees lining the aisle, which they hand-painted and put into columns. The effect was like being married in a winter forest!
---
Mary & Michael, married January 28, 2012 at the Old Courthouse on the Square in Decatur, Georgia. This wedding was the epitome of a classic, old-school wedding, right down to the big band who entertained the crowd with jazz standards all night!
---
Emily & Chris, married February 18, 2012 at Morningside Baptist Church and The Georgian Terrace Hotel in Atlanta, Georgia. Chris is the pastor at Morningside Baptist, and as such, the ceremony was the most important part of the wedding for him and Emily. It included several songs (sung by a choir of Emily's friends, who were accompanied by several musicians), communion for all the congregants (handed out by the bride and groom themselves), and was officiated by one of their professors from Emory.
---
Nikki & Matt, married March 10, 2012 at Birmingham United Methodist Church in Alpharetta, Georgia. This wonderful morning wedding had so many fun details, including a cereal bar, made-to-order pancakes, a private picnic for the couple, a bluegrass band… and piñatas! Nikki even planned ahead for this adorable thank you note idea!
---
Lyndsay & Al, married March 31, 2012 at the Atlanta Botanical Garden in Atlanta, Georgia. What a gorgeous day in the Garden! Lyndsay and Al got some amazing photos in the Orchid House and then joined their fabulous party. In Lyndsay's words, "I was always told, "the bride never has fun at her own wedding" but I had the best day of my life."
---
Sara & Daniel, married April 28, 2012 at the InterContinental Hotel Buckhead in Atlanta, Georgia. In this gorgeous fusion wedding, Sara and Daniel blended their heritages (she's Indian/American, he's Jewish American) to create an elegant day that was truly them.
---
Kalli & Josh, married May 5, 2012 at The Solarium in Atlanta, Georgia. A Cinco de Mayo-themed Jewish wedding on the lawn outside the Solarium! The ceremony was punctuated by raucous music drifting over from the nearby street party, and guests couldn't get enough of the taco truck and gelato bar. Read more about Kalli and Josh's wedding story and advice to other couples here!
---
Lauren & Anneliese, married May 12, 2012 at The Lake House at Avondale in Avondale Estates, Georgia, which also functions as the clubhouse of their beloved neighborhood. We planned for the ceremony to take place outdoors on the adjacent terrace, and when the wedding day dawned with torrential rain forecasted out of nowhere, we got to experience a wedding miracle when we were able to get a tent delivered at the last minute! Their ceremony was so sweet, with a friend singing the new song A Thousand Years, bringing everyone to tears. The highlight of the reception was the Indian dance troupe!
---
Kristen & Huie, married May 19, 2012 at the Cathedral of Christ the King and Greystone at Piedmont Park in Atlanta, Georgia. One of my favorite wedding details ever: Kristen had pillows made with their family name and wedding date, to use at the reception and later in their home!
Emily & Pete,
married May 27, 2012 at The Ritz-Carlton Buckhead in Atlanta, Georgia. A classic, elegant Jewish wedding. I most remember Emily's joy at seeing her bouquet (flowers were super important), and the couple's little dog running around in doggy diapers in case he had an accident!
---
Kate & Tyler, married June 2, 2012 at Greystone at Piedmont Park in Atlanta, Georgia. A bicycle theme for these outdoor enthusiasts was just perfect for their outdoor park wedding. And I was so grateful that Kate loved her flowers… we interviewed a grand total of seven florists before finally choosing our winner!
---
Ainsley & Erik, married June 9, 2012 at The Ritz-Carlton Downtown in Atlanta, Georgia. Think hot pink and sparkles, a glowing white huppah… and car parts! Intrigued? Take a look at their wedding story post and their advice for other couples!
---
Natalie & Tucker, married June 9, 2012 at The Formal Garden at Stone Mountain in Atlanta, Georgia and The Cotton Warehouse in Monroe, Georgia. Barn chic? Natalie practically wrote the book – as an early adopter of this decor trend, she nailed it!
---
Alia & Jay, married June 16, 2012 at Druid Hills Baptist Church and Emory Conference Center Hotel in Atlanta, Georgia. A wine-themed wedding for this super sweet couple… my favorite decor item was the handcrafted B made out of wine corks.
---
Nicole & Justin, married June 22, 2012 at PineIsle Pointe at Lake Lanier Islands, Georgia. A lovely, HOT day at the lake… I was afraid the DJ was going to pass out after lugging in all of his gear! Luckily, the guests didn't mind – the late-night gelato bar (among many other sweet treats) probably helped!
---
Nobuko & Hank, married June 24, 2012 at Morningside Baptist Church and 103 West in Atlanta, Georgia. The day started off with a traditional Chinese tea ceremony at Hank's parents' home, to welcome Nobuko into the family. A lunch was served, and we then moved on to a beautifully simple wedding ceremony at the historic Morningside Baptist Church. Finally, guests enjoyed a delicious three-course dinner at 103 West, accompanied by keyboard music and accented with flowers in different shades of purple.
---
Marianna & Justin, married August 25, 2012 at Sacred Heart Catholic Church and The Georgian Terrace Hotel in Atlanta, Georgia. Marianna is an engineer and Justin is a Marine who was injured in Iraq (he's almost fully recovered now, thanks to Shepherd Spinal Center!). The best man (who has known Justin since elementary school) mentioned in his speech that Justin hardly ever smiles. All I can say is, on this day, he had a smile on his face more often than not! I looked over once at him towards the end of the evening and he had the biggest smile I've ever seen. Just one of the little moments that make me love what I do!
---
Stephanie & Chad, married September 8, 2012 at Sacred Heart Catholic Church and The Four Seasons Hotel in Atlanta, Georgia. Stephanie and Chad's wedding was just perfect from start to finish. Stephanie infused vintage touches throughout the event (like her lace gown and the lanterns used for decor during the cocktail hour), but the overall style was classic and elegant. And she was the first bride I've seen who incorporated the now popular Dad's First Look! He came up to the room as she was finishing getting dressed, and we brought him in to see the bride in all her glory. What a sweet moment. Made me miss my dad.
---
Daryn & Trent, married September 15, 2012 at a private residence in Atlanta, Georgia. This wedding was memorable for many reasons (not least of these the fact that we planned the entire thing, start to finish, in 6 weeks!), but the most memorable part had to be when the florist fell off his ladder in the middle of setting up, breaking his arm in the process (he was fine, thank goodness!). My assistant arrived just as he was being carted off in the ambulance, and next thing you know, she's finishing the centerpieces and putting together the traditional 4-poled chuppah that the guests held over the couple. All part of the service!
Christine & Rich,
married September 28, 2012 at Roswell River Landing in Roswell, Georgia. I confess, I was beginning to think Christine's wedding day would never actually happen! It was originally scheduled for March 2011, and the date changed at least three times. Since Rich is Australian, they had to jump through hoops for almost two years to get his visa situated. They ended up getting married in Australia in October 2011, and then were finally able to have this vow renewal and party for their American friends almost a year later. It was the laid-back, intimate event that Christine had dreamed of for so long!
---
Samantha & Patrick, married October 13, 2012 at Fernbank Museum of Natural History in Atlanta, Georgia. It was a peach of a day, filled with Southern hospitality, dinosaurs, and so much fun and love! Read Sam and Patrick's wedding story here!
---
Sherry & Bob, married October 20, 2012 at a private residence in Atlanta, Georgia. An intimate wedding day at Bob's father and stepmother's home. The garden on the property is absolutely incredible – behind the pool, a set of stone steps leads you down through a wooded Asian-style garden. At the bottom of the hill, there was a mossy landing where the guests sat, as well as stood, around Sherry and Bob as they exchanged vows on the stone steps, then joined their guests for a dinner party on the pool terrace.
---
Kristina & Kevin, married October 27, 2012 at Greystone at Piedmont Park in Atlanta, Georgia. A gorgeous autumn day for this sweet, laid-back couple! One of my favorite parts of a Piedmont Park wedding is the private golf cart ride that we do with the bride and groom and the photographer after all of the family photos are done. This time it was extra special, as we rode to the spot where Kevin proposed to Kristina. You could tell they were in their own world – reliving that moment and enjoying the thrill of being newlyweds.
---
Abby & Todd, married November 3, 2012 at Magnolia Hall at Piedmont Park in Atlanta, Georgia. Another gorgeous weekend in the park! Abby and Todd were married under the tree on the Magnolia Hall lawn, beneath a dramatic display of hanging lanterns and giant moss cones with flowers cascading down. Part of what is fun about the park is that it is, in fact, a public park. So you have lots of onlookers as you're taking pictures, and, as in this case, at the actual ceremony itself! There was a whole crowd watching the ceremony from the other side of the lawn, which Abby thought was so fun!
---
Shannon & Casey, married November 10, 2012 at Perimeter Church and Roswell Mill Club in Roswell, Georgia. A simple wedding, honoring faith and families; both of which are extremely important to this couple. In addition to the parents and many grandparents (including Shannon's great-grandmother!), their siblings and nieces and nephews all walked into the church in the processional. I could especially see the love of family coming through during the reception, where several times both Shannon and Casey made a point to sit down and visit with their parents and siblings, or just stop to give a quick hug or kiss.
---
Amber & Ben, married November 30, 2012 at the Old Courthouse on the Square in Decatur, Georgia. A simple, elegant, intimate wedding replete with Southern touches, including a buffet of soul food favorites and country music… and super cute favors made by Amber and her mom. They packaged a Moon Pie and a Coke (in a glass bottle) for guests to take home for a midnight snack. Yum!
---
Whitney & Robert, married December 1, 2012 at Summerour Studio in Atlanta, Georgia. For their grand and formal affair, this couple went traditional all the way, opting not to see each other until the ceremony, which took place on the gorgeous carved wood staircase beneath a crystal chandelier. The centerpiece of the reception decor was the grand estate table, set on risers in front of the staircase. String lights illuminated the dance floor, and guests enjoyed a served dinner and dancing to the band's "soulful rock."
---
Laura & Clarke, married December 8, 2012 at Summerour Studio in Atlanta, Georgia. Laura and Clarke's wedding was all about family and friends, beautiful decor, and personal details. Laura, a former Falcons cheerleader, had nine of her closest friends stand up with her as bridesmaids, and Clarke had the same! Plus, Laura's adorable niece and nephew were the flower girl and ring bearer. At Summerour, the venue sparkled and shone with candlelight, crystals and pearls, along with all of Laura's carefully planned details, including something very sweet that I have not seen before: Laura and Clarke each hand-wrote letters of thanks and appreciation to their parents and framed them, and then we set those out on the guest book table.
---
Erin & Simon, married December 15, 2012 at Decatur First United Methodist Church and Fernbank Museum of Natural History in Atlanta, Georgia. Erin and Simon are both super smart marine biologists. They met on the beach while studying sea turtles (they have both done very important research about this fragile species). Fernbank was the perfect setting to show their love of animals!
Most Beautiful Decor Award
To Sara and Daniel, for their starlit dance floor (check it out at the top of this post and also here!).
Wedding Disaster Averted Award
To Marianna and Justin, for the Case of the Missing Cake (read more here…). All's well that ends well, and I believe I was actually more stressed than they were – which is, of course, my job!
Most Creative Favor Award
To Sherri and Bob, for the Indian beaded slippers they provided to all the guests, to ease their way down the steep and rocky stairs to the ceremony site in the lower garden. Everyone loved them, and some guests ended up wearing them the whole night!
Best Groom's Cake Award
To Erin and Simon, for the turtle cake, which was so lifelike they were reluctant to cut it (and so was the caterer!). So they posed for a picture, and next thing I knew, Simon had whipped out his tape measure (that he just happened to be carrying in his tux pocket) to measure the shell, just like they would have done on the beach. I was laughing with Erin about that later – she said, oh yes, that's Simon! What a perfect pair they are.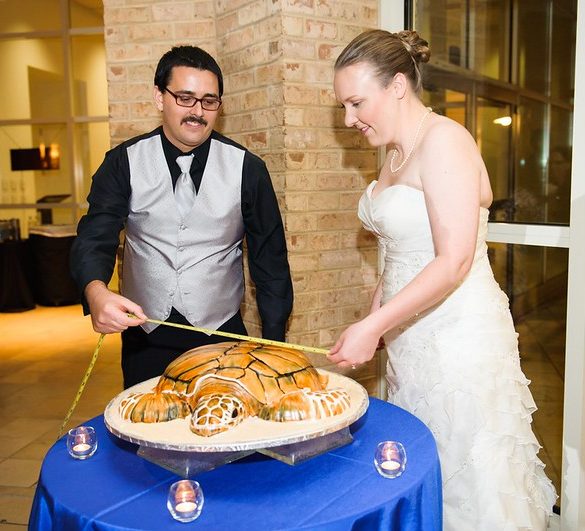 Coolest Ceremony Award
To Daryn and Trent for their "flash mob-style" ceremony. What does that mean? Well, it's a term we coined when Daryn came up with the ceremony concept, which actually goes back to the original roots of the wedding chuppah, or canopy. Guests enjoyed a cocktail hour as soon as they arrived at the house. Once everyone had arrived, the band leader announced, "Let's have a wedding!" Four canopy bearers brought out the wedding canopy made from bamboo poles and sheer fabric, Trent and the officiant stepped beneath it, and Daryn made her entrance, preceded by their two girls. Daryn and Trent said their vows while surrounded on all sides by their family and friends, including Daryn's mother in California via Skype on an iPad. At the end of the ceremony, the canopy disappeared as quickly as it came out, and the party continued. Amazing!
Sweetest Mom Award
Many moms qualify for this award, but this year I must present it to Laura's mom Fran. She is one of the sweetest, kindest people I have ever had the pleasure of working with. She was also one of the most nervous mothers I have ever met. She came to me during the reception and hugged me for a good long time, and told me that all her nervousness had been for nothing, because it was the most perfect wedding ever. (Something she never thought was possible!) Another example of why I love what I do!
"Daria, how can I thank you enough for all you have done to make Laura and Clarke's wedding so special! It was a beautiful and magical evening and it came together without a single problem. Oh, the hours of worry that were totally not needed as you did assure me that all would be just as planned!!! Everything went so smoothly and could not have been more beautiful!!! Through this wedding I feel I have gained a wonderful new friend and I am so happy with all the help you were to me! Thank you again for your professional manner and friendship as well! You gave it that special touch in knowing that all was under control and NOT TO WORRY!" God bless you always as you serve other brides and families!!! ~ Fran (MOB)
---
Gratitude to all of my beautiful couples (and their pups!), their families, and our fabulous vendors who worked together to create unforgettable events.
Blessed Be and Namaste ❤️
Top photo courtesy of Nadia D Photography
Gallery 1 photos courtesy of Janet Howard Studio, Photojenik Photography, Springfield Photography, Evin Photography, OneNine Images, Sean and Amanda Photography, Nadia D Photography, Barefeet Photography, Holly Jones, Lovoy Gibson
Gallery 2 photos courtesy of Ben Vigil, Scobey Photography, Nadia D Photography, Once Like A Spark, Janet Howard Studio, Alea Moore Photography, Brian Adams Photo, DMG Images, Tessa Marie Photography, Bliss Photography
Gallery 3 photos courtesy of Jamie Treadwell, Vue Photography, Christine Gallagher Photography, Janet Howard Studio, Project Duo, Pure Gold Photography, Alecia Lauren Photography, Eric Little Photography, The Storyteller, Fotographa
The Missing Cake photo courtesy of DMG Images
Sherry's Slippers photos courtesy of Christine Gallagher Photography
Turtle Cake photo courtesy of Fotographa
Bottom photo courtesy of Scobey Photography