Hello everyone! It is Amanda and I have my wedding pictures in! So as to not overwhelm you with the 1000 or so images I have, I decided to split them up into categories so I could tell you what I did, what I would change and all the little details. Today we are going to talk about flowers!
When I first got engaged, I knew I wanted a DIY wedding. I said it was because I love doing crafts (which I do), but looking back and if I am being honest with myself it is because I am a complete control freak. I have to know every detail of every process.
You could call my wedding atypical (my grandmother calls it unconventional). Call it whatever you like. It was a little out of the norm and that is why I loved it.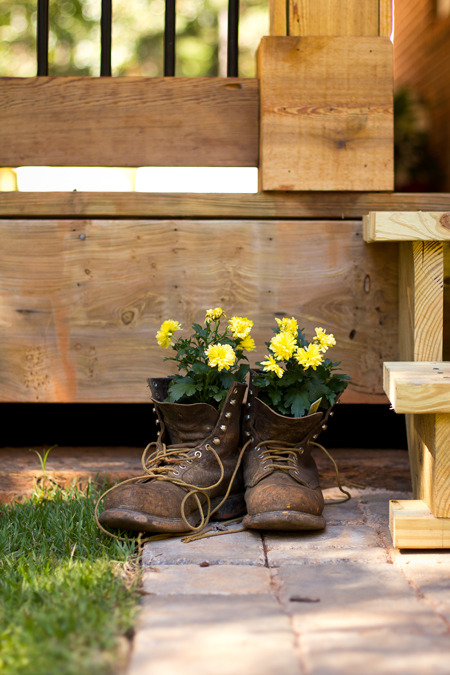 My mom's best friend loves flower arranging, so she offered to arrange my bouquet for the wedding. I had a rule. I wanted it to look like wildflowers; and roses, carnations, sunflowers, hydrangeas and peonies absolutely could not be used. The top photo shows what she came up with. I love it. Best part? They dried beautifully and are now in the coolest shadow box in the world.
In true Daria fashion, I was all about details. We got married at my childhood home and I wanted it to feel casual. We spent months getting the place spruced up and ready.
My girls carried small, simple bouquets of wildflowers.
I loved the pink in my bouquet because it brought out my pink dress.
Instead of traditional table arrangements, we went for simple one or two-stemmed arrangements in blue wine bottles. A little girl said she loved them and wanted to use them at her Little House on the Prairie party. She understood me.
We got all of the flowers from a local farmer's market on Friday morning and arranged them on Saturday morning (the wedding day). I wouldn't have changed a thing about how they looked. However, we should have arranged them at another location. Some of the flowers smelled a little like fish for a while so we had to air out the house!