---
"There wasn't an option for 6 stars [in the review], otherwise I would have chosen that. Daria is the best in the business. She coordinated one of my best friend's weddings and from there I was sold. I knew I had to hire her right away. We could not have planned this wedding without her expertise. She's always professional, flexible and easy to reach. I could email or text her any time and would receive a timely response. She knows a variety of vendors from all different price points. She was able to give me sound advice on everything. I never felt lost through the whole process. My wedding day was stress free. She fixed every mishap that came her way, from my broken pearl bracelet to my husband's ripped tuxedo pants. She was calm and collected, which made us all calm and collected. The wedding was beyond my imagination and it was beautifully executed, all thanks to the help of Daria. Hire her. You will not regret it. TRUST ME!" ~ Yoo Mee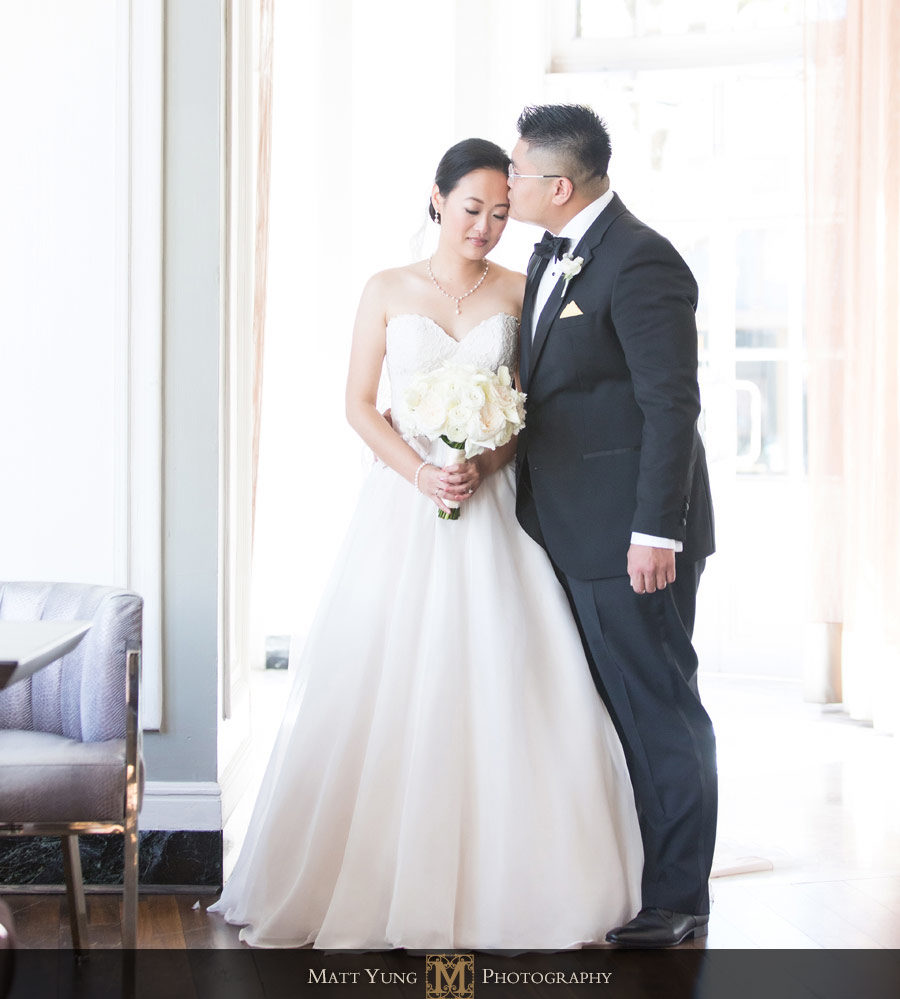 Yoo Mee is friends with one of my brides from last year, and Yoo Mee told me later that she knew she wanted to hire me right after that wedding. So sweet!
Yoo Mee is a doctor at Emory Midtown, so the Georgian Terrace was perfect, as she could walk over whenever she wanted to. The planning process was a breeze, since Yoo Mee is very decisive and knew exactly what she wanted for the wedding.
This relaxed attitude translated into a carefree wedding day, which was a good thing, since we had one of the most serious wardrobe crises I've had to deal with yet: during pre-ceremony photos, the groom's tux pants split right down the back, and not on a seam! (Hint to anyone wearing tux pants: if the photographer tells you to squat down, just say NO!)
Yoo Mee could not have been calmer; she and the girls carried on taking photos while James and the guys took a little break and I sewed the pants up. Crisis averted! Meanwhile, James told me that I saved the wedding! LOL! It was a crisis, to be sure, but I told him it was my pleasure, and that they still could have gotten married even if he was wearing different pants! (The groomsmen were all willing to switch if needed…)
They were married in a brief, lovely ceremony, which was officiated by a close friend, and then headed up to the roof for some more photos while guests enjoyed cocktail hour.
Just look at how happy they look!
The decor was stunning, with flowers in the shades of blush and ivory that work so well in the Georgian Terrace, touches of gold (check out the shiny photo booth backdrop!), and specialty linens on all the tables.
The centerpiece of the reception ballroom was a huge estate table for the wedding party and family, topped with the ceremony floral arrangements and tons of candles.
After the rooftop photos and before their date, Yoo Mee had changed into her Korean gown and we brought her in for a sneak peek of the room.
Her plan was to change back into her wedding gown after the first dance, but when I came to get her to do that, she said she was so comfortable, she just wanted to stay in the Korean clothes!
Guests enjoyed a stations dinner, with a variety of salads, shrimp and grits, a prime rib carving station, and mini crab cake and burger sliders.
After Yoo Mee and James cut the beautiful wedding cake, the crowd hit the dance floor (a very cool specialty white dance floor that Yoo Mee had fallen in love with) with a vengeance!
My favorite detail:
Yoo Mee and James provided guests with the ever-popular glowsticks for the dance floor, but theirs had a twist: they came with connectors that allowed guests to turn them into glasses! So cute!
Between the great music and the photo booth, guests had to be coaxed outside at the end for the sparkler departure, but by that time Yoo Mee and James were ready to relax, so they headed down the Ponce stairs as guests lit sparklers.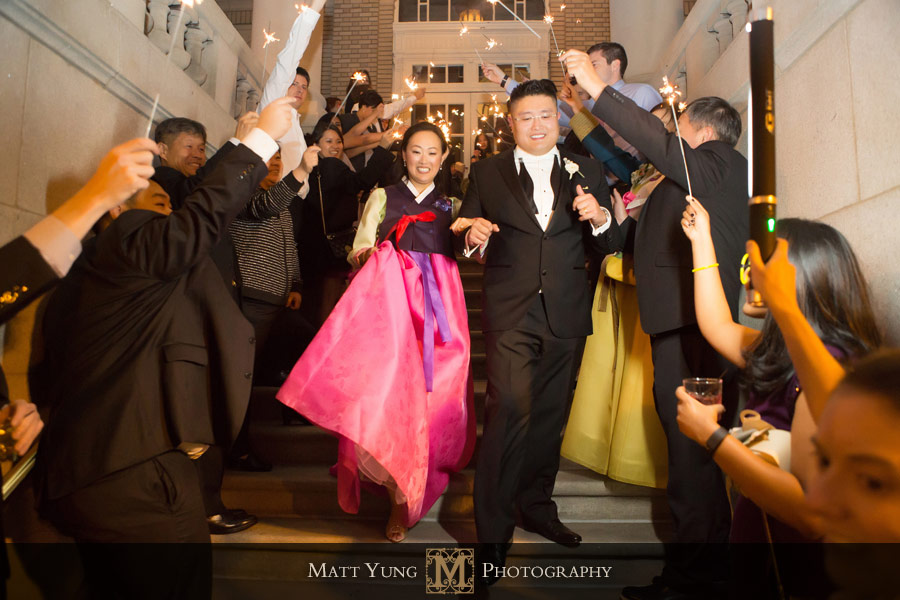 Congratulations Yoo Mee and James! You were a dream to work with and I wish you a beautiful life together!
Photos courtesy of Matt Yung Photography
---
Venue and Services
Ceremony and Reception The Georgian Terrace Hotel
Officiant David Nagarkatti-Gude (friend of the couple)
Photographer Matt Yung Photography
Photo Booth Shutterbooth
Ceremony Music Armonico Strings
DJ SoulSpin Studios, DJ Trey
Florist Faith Flowers
Catering The Georgian Terrace Hotel
Baker The Frosted Pumpkin
Dance Floor Peachtree Tents and Events
Hair and Makeup The Moore Agency
Invitations DecoMarj
Host Hotels The Georgian Terrace Hotel, Hotel Indigo Midtown