A retrospective of 15 years of our celebrations of love. These are the stories of a wonderful year.
Welcome to 2013! A record year for Circle of Love Weddings, my team and I planned and coordinated 37 events – WOW! A rehearsal dinner, a baby shower, a graduation party and a corporate dinner, plus 33 beautiful weddings, ranging in size from tiny to gigantic. It's impossible to say which was my favorite, but a highlight was certainly the Dr. Seuss-themed baby shower for my dear friend Alecia.
Our amazing intern-turned-guest blogger, Amanda, shared the journey of planning her own wedding to Matt, with all its twists and turns. Her big day on October 12, 2013 was just perfect in the end – of course! Check out the grand finale blog post
here
, in which she shares her favorite things about her wedding. And search "Amanda" to see the rest of her informative and entertaining posts!
Creativity reigned, as many ceremonies included unique traditions and the receptions included fun and different decor details; and this was the year of kiddos! A wedding is a family affair, after all, and I love that the traditional rules for the order of things are heading right out the window. Plus, second weddings!
Most of all, the feeling I remember as I write this post is one of JOY. The light-heartedness, the fun and funny decor, kids and pups, crazy photo booths and dance floor moments. It was a busy year to be sure, and I wonder, looking back, how I did it all… but I think maybe it was this energy of joyful love flowing through that made it happen. Wedding magic, to be sure!
---
There was a time I didn't even know what a wedding planner was, or what they did. Now I know how unbelievably priceless you are. I have only glowing recommendations for you. You earned every penny… and more! Maybe you have a chameleon-like ability to relate to whomever you must, but I appreciated your personality and ability to relate to us! Thanks a million! ~ Linda (MOB)
---
2013 Events
Elizabeth & Mike, married on January 26, 2013 at The Solarium in Atlanta, Georgia. Elizabeth originally wanted to elope to Las Vegas, but Mike talked her into having "the whole shebang." She agreed, as long as it would be laid back and fun…mission accomplished! For example: Since they hardly have any single friends, Elizabeth didn't want to do a traditional bouquet toss. I suggested something another of my couples did that was SO fun: a lottery ticket bouquet! You better believe every guest (guys included) was out there on the dance floor vying to catch it!
---
Maura & Joshua, married on February 9, 2013 at Holy Innocents Episcopal Church and Five Seasons Brewery in Atlanta, Georgia. Maura's parents wanted to give her and Joshua a fabulous Marriage Blessing and wedding celebration here in Maura's hometown. Maura and Joshua live in Seattle, and Joshua just returned from a tour of duty in Afghanistan. Betsy and I worked together on the celebration for a year, and early on in the planning process the planning took a bit of a surprising turn: Maura discovered she was pregnant! So we added a Baptism to the Blessing and kept on planning. The evening was fantastic, with a moving ceremony in Betsy and John's church, followed by dinner at the 5 Seasons in Sandy Springs. My favorite moment: When Maura came up to me during the reception and said that everything was more beautiful than she could have imagined. This was so meaningful because we planned it all without her there, and we all really wanted it to be what she wanted.
---
Blake & Bob, married on February 9, 2013 at All Saints Episcopal Church and Greystone at Piedmont Park in Atlanta, Georgia. Blake and I have actually known each other since we were babies. Our parents lived in the same apartment complex when they first moved to Atlanta. It's funny that Blake and I ended up in the same industry and came across each other a few years ago (she is a corporate event planner). When she called me to help her coordinate her and Bob's wedding, how could I refuse? I helped her wrap up all the wedding details, and my associate wedding director Kristen was there on the day as her wedding director.
---
Rachel & Joey, married on February 16, 2013 at the Old Courthouse on the Square in Decatur, Georgia. Rachel and Joey have a beautiful 1 year old daughter named Eisley. We had planned for her to be carried in to the ceremony by Rachel's mom, but as is typical with little ones, sometimes they have their own plans! Eisley wanted to be carried in by her daddy, so that's what we did! Joey said later that it was one of his favorite moments. It was so sweet!
---
Holly & Jonathan, married on March 3, 2013 at Frank Ski's Restaurant in Atlanta, Georgia. Jonathan is good friends with Frank Ski and they love going to his (now closed) restaurant, so Holly and Jonathan thought it would be a cool place for their night of "Mazel Tovs and Martinis" (per the invitation!). Holly loves pink, so everything possible was hot pink, including her Swarovski crystal shoes. The evening began with a "swanky cocktail hour" complete with a strolling trumpeter, and guests then joined Holly and Jonathan on the beautifully draped and lit covered patio for a heartfelt and funny ceremony. The party then continued late into the evening with DJ Baby Yu spinning, and old Audrey Hepburn movies playing silently on the TVs. Holly and Jonathan departed as guests shook pink pom poms!
---
Amy & Peter, married on March 9, 2013 at the Wimbish House in Atlanta, Georgia. During Amy's dad's welcome speech and toast, he told the story of how he immediately liked Peter because of the look in his eye and the way he looked at Amy. What dad doesn't want to know that his daughter is in good hands?
---
Devan & Clyde, married on March 16, 2013 at the Catholic Shrine of the Immaculate Conception and the Ritz-Carlton, Downtown in Atlanta, Georgia. Devan and Clyde planned a classic, formal affair, with their ceremony at Atlanta's most historic church, and a reception at one of Atlanta's most elegant hotels. Funny story: At Devan's shower, they had petit fours and Clyde had some of the leftovers and loved them – he had never had them before. Devan thought it would be cute to have petit fours instead of a groom's cake – and it was funny, because Clyde was a football player and is about 6'5". The delicate petit fours were unexpected, but he loved them!
---
Amy & Trey, married on March 30, 2013 at Summerour Studio in Atlanta, Georgia. It was a day of wonderful surprises, fabulous spring weather and so much love and joy! Read this beautiful couple's wedding story here.
---
Sandy & Chris, married on April 6, 2013 at Decatur First United Methodist and Callanwolde in Atlanta, Georgia. Classic and classy are the two words I would use to describe what Sandy wanted for her and Chris's wedding. After working together for a year, it was a joy to see Sandy's vision come to life! I must say, this was one of those rare weddings where most of the guests stayed until the very end. I'm not sure what they enjoyed most: the band, the photo booth or the multiple desserts, including two kinds of cake, pies, and homemade cookies and cupcakes for favors.
---
Emily & Chris, married on April 13, 2013 at the River Club in Suwanee, Georgia. Emily and Chris met in Australia while she was there studying (he's Australian), and after much work to get his visa situated, he moved here to the U.S. to be with her. Quite fittingly, they chose a travel theme, and Emily went all out with the cute details! From the maps wrapped around her shoe insoles, to the luggage tag favors, she thought of everything (and bought out Etsy in the process). She was so excited when the wedding was featured on Style Me Pretty!
---
Lindsay & Ralphie, married on April 27, 2013 at 550 Trackside in Lawrenceville, Georgia. My favorite detail: Lindsay and Ralphie had always wanted a tater tot bar at their wedding, and were thrilled to find a caterer who could execute it just perfectly.
Suzanne & Jonathan,
married on May 11, 2013 at the Emory Conference Center Hotel in Atlanta, Georgia. Suzanne (who is Jewish) and Jonathan (who is not) worked together to create a very personal, meaningful ceremony, complete with personal messages and a reading in English of the Seven Blessings that are the centerpiece of the Jewish wedding ceremony.
---
Kiersten & Micah, married on May 25, 2013 at the Atlanta Botanical Garden in Atlanta, Georgia. A sweet love story, faithful family devotion, and some crazy fun antics combine to create a fabulous celebration! Read more about this Crazy Love story here!
---
Natalie & Hunter, married on June 1, 2013 at the family home and the Piedmont Driving Club in Atlanta, Georgia. The first thing Natalie and her mom told me about when they hired me a year before Natalie and Hunter's wedding was the garden theme. Natalie's parents own a gorgeous estate in Sandy Springs, and Natalie had always dreamed of being married from her childhood home. They transformed the tennis court into a garden-like setting for the ceremony. For the reception, Natalie's mom had a vision to bring the feel of the garden into the ballroom, and the effect was stunning.
---
Katye & Alex, married on June 8, 2013 at the Atlanta Botanical Garden in Atlanta, Georgia. Another beautiful wedding in one of my favorite venues! It's fascinating to me how very different weddings in the same space can be, which is part of what I love about what I do. Each event is true to the couple's style and desires. Katye envisioned a bird and wood theme to go with the natural elements of the Garden. The whole design was very organic, and perfect for the couple's personalities.
---
Amelia & Wilson, married on June 15, 2013 at First Presbyterian Church and Cator Woolford Gardens in Atlanta, Georgia. Amelia and Wilson's wedding was a very interesting juxtaposition of traditional and non-traditional. They had their ceremony at First Presbyterian, which is a beautiful, historic church in Midtown. Wilson's family has been church leaders for generations, both he and his brother were baptized there, and Wilson is currently a church elder. At the garden reception, Amelia's style held sway: the decor, designed and partially created by her, featured asymmetrical natural design, wood slices, jars, candles and lace doilies, all accented by beautiful blooms.
---
Linda & Paul, married on June 21, 2013 at the Solarium in Atlanta, Georgia. This simple and lovely wedding was a family affair! My favorite moment: Linda and Paul's five grandchildren (ages 9 years down to 1 year) were all set to begin the processional by entering in a wagon (in which some would ride, and others walk beside). However, as may happen, the two riders decided at the last minute that they weren't having any of it! Mason still pulled the wagon in, the younger children were carried in, and all was well! The best part was the song to which they entered: Amor Capella ("Chapel of Love"), better known as "Going to the chapel, gonna get married!"
---
Michelle & Jonathan, married on July 12, 2013 at Holy Spirit Catholic Church and The Georgian Terrace Hotel in Atlanta, Georgia. Michelle and Jonathan's wedding was classic and pretty, decorated in whites and greens with eggplant as the accent color. After Michelle and Jonathan greeted their guests from the famous Juliet balcony in the ballroom, guests enjoyed a seated and served dinner and dancing, punctuated by delicious cake, including a penguin groom's cake (because Jonathan loves penguins, so why not?).
---
Meghan & Beth, married on July 13, 2013 at Studio 887 at King Plow Arts Center in Atlanta, Georgia. They wanted a party with their Atlanta friends, since they did a private wedding ceremony in Iowa, with only their parents in attendance. Studio 887 was the perfect setting for their intimate event, with a classic black and white color scheme, punctuated with pops of lime green.
---
Ally & Adam, married on August 17, 2013 at Our Lady of the Assumption Church and Summerour Studio in Atlanta, Georgia. I had the pleasure of working with Ally and Adam throughout the entire wedding planning process, starting with finding the venues when they first got engaged, and culminating with their amazing wedding. This starry-eyed couple emanated love the entire day!
---
Laurel & Allen, married on August 24, 2013 at Shallowford Presbyterian Church and the Trolley Barn in Atlanta, Georgia. The ceremony took place at Laurel's family church, where her parents were actually married as well. However, Laurel and Allen had their ceremony in the newly renovated chapel (they were the first wedding to be held there since the renovation). Laurel's family embraced Allen (an orphan) and his five-year-old son, who was his Best Man. At the end of the night, we looked around for Tristan (the five-year-old best man), and found him completely racked out in his new grandfather's arms. So sweet!
---
Joe & Martin, married on August 31, 2013 at the Piedmont Room at Park Tavern in Atlanta, Georgia. We had originally planned the event as a traditional wedding runs: ceremony, then cocktail hour, then the dinner and dance. However, about two months out, Martin and Joe decided that in light of the recent advancements in gay marriage rights, that they would go to New York to actually get married, which they did. They still wanted to include a ceremony for their friends and family to witness, however, and I'm so glad they did. As the ceremony concluded the guests applauded as usual, but the energy in the room swelled with amazing love as the guests spontaneously rose to give a standing ovation. The moment felt very historic to me, as we move a little further down the path of marriage equality for all.
Kim & Andrew,
married on September 7, 2013 at the Trolley Barn in Atlanta, Georgia. A laid-back wedding on a gorgeous fall day for this South African – Thai-American couple. While the ceremony was mostly a traditional, secular American-style ceremony, Kim's father (who is Thai), wanted to incorporate a traditional Thai water ceremony. After they exchanged vows, Kim and Andrew sat in chairs while her father officiated this ceremony, which involved him pouring blessed water over their hands. He told me that in Thailand, it's tradition for all the guests to come up one by one to pour the water over the couple. I had never seen this before, and I love it!
---
Kristin & Eric, married on September 14, 2013 at Northside United Methodist Church and Fernbank in Atlanta, Georgia. The ceremony was very important to Kristin, as she was being married in her father's church. She and her mom spent a long time choosing each song and reading, and there were several solos. One of the solos Kristin chose on her own, and then later found out that when her parents were married, her dad sang that same song to her mother during the ceremony! As we were lining up to process into the church, Kristin (who had been super calm all day) and her dad both teared up when that song began. So sweet!
---
Andi & Jay, married on September 28, 2013 at Temple Sinai and their residence in Atlanta, Georgia. The traditional Jewish ceremony was held in the synagogue's beautiful modern chapel. Andi and Jay designed a unique in-the-round configuration, with the huppah in the center of the room and the chairs in two semi-circles, so every guest had a full view of the ceremony.
---
Paige & Robert, married on October 5, 2013 at the Atlanta Botanical Garden in Atlanta, Georgia. As this was the fourteenth (!) wedding of the year for Paige and Robert's social group, they wanted to be sure it stood out. And with the incredible opulent gold and blush Gatsby-style decor, plus a glowingly happy couple, it certainly did!
---
Deena & Molly, married October 12, 2013 at Cator Woolford Gardens in Atlanta, Georgia. Molly and Deena truly loved all of their vendors and took pains to make the whole planning process easy. We all wanted their day to be perfect, and it was!
---
Alison & David, married on October 19, 2013 at St. Dunstan's Episcopal Church and the Wimbish House, in Atlanta, Georgia. A true weather miracle occurred at this wedding! Despite threats of rain all day, we acted on faith and held the ceremony outside, since being married outdoors in the beech grove of the church was Alison's highest priority. Just as Alison and David were saying their vows and exchanging rings, the sun came out, and shone beautifully through the trees onto the couple. What a truly magical moment!
---
Elizabeth & Bryant, married on October 26, 2013 at Trinity Lutheran Church and Agnes Scott College in Atlanta, Georgia. Check out the story of their Black and Red and Beer All Over wedding here.
---
Deborah & Richard, celebrated on November 2, 2013 at Greystone at Piedmont Park in Atlanta, Georgia. After eloping to Lake Oconee and having a baby together, Deborah and Richard were more than ready to celebrate their wedding with their family and friends two years later! The main event of the party was a special band put together by Richard and Colonel Bruce Hampton (a local music legend) as a surprise for Deborah. The couple loves live music and wanted their party to feel like an intimate concert. Despite not having rehearsed together, this fabulous group of professionals jammed for three hours, much to everyone's delight.
---
Kathryn & Kyle, married on November 9, 2013 at Sun in My Belly in Atlanta, Georgia. Read the story of their beautiful "200 to 20" wedding here!
---
Diane & Paul, married on November 16, 2013 at the Old Courthouse on the Square, in Decatur, Georgia. Diane and Paul wanted a wedding where "fun" was the theme, and they got it! Also, pre-ceremony photos with pups are always a win, in my book!
---
Shaanta & Edward, married on November 24, 2013 at the Solarium in Atlanta, Georgia. A beautiful day for the couple and their young daughters! Kyra was her mom's maid of honor, and Alia wore a little suit and was her dad's "best daughter."
A Buzzy Bee Rehearsal Dinner
It's rare for me to do an ancillary wedding event without planning the actual wedding. However, when I got a call from Robert's mother, who lives in Oklahoma, I was happy to help! We planned a lovely rehearsal dinner for Ashley and Robert, on April 12, 2013 at the Teal Gallery in Roswell, Georgia.
Ashley and Robert met at Georgia Tech (and Robert's family has a long history at Tech), so a gold, black and white theme with science accents was a given! The centerpieces were made of test tubes nestled in wheat grass, and were accented with bee cake pops. Anne added fun extras like beaker water glasses and jars of local honey as favors.
A Dr Suess Shower
When my dear friend (and fabulous photographer) Alecia got pregnant, I insisted on throwing her a shower – still one of my favorite types of events ever! On August 10, 2013 we gathered her friends and family at the space at Endive for a brightly colored book-themed shower, in honor of one of her favorite authors, Dr. Seuss!
We asked the guests to bring a book as their gift, to help build a library for baby Quinn. We decorated onesies and socks, wrote love notes on bird-shaped cards which we hung in a tree, and feasted on Endive's delicious food and a fabulous cake. And we got to shower Alecia with all the love she deserves!
And now, the moment you've been waiting for: the 2013 Awards!
Coolest Shoe Award
To Holly, for her hot pink, Swarovski crystal-encrusted sky-high heels, which she LOVED (and which Jonathan hated, ha ha!). We named them, appropriately, Holly's Fabulous Shoes! Aren't they?
Most Creative Chuppah Award
To Suzanne and Jonathan, for their feathered chuppah. Suzanne recently lost her grandfather, so to honor him, she designed a completely unique chuppah decorated with white feathers from his feather duster business. It was absolutely stunning, and very meaningful to Suzanne and her mother and grandmother.
Most Unique Unity Ritual Award
To Joe and Martin…as part of their ceremony, the two of them locked together two antique padlocks – a unique twist on the traditional unity candle, and right in line with the lock and key theme that our decorator came up with!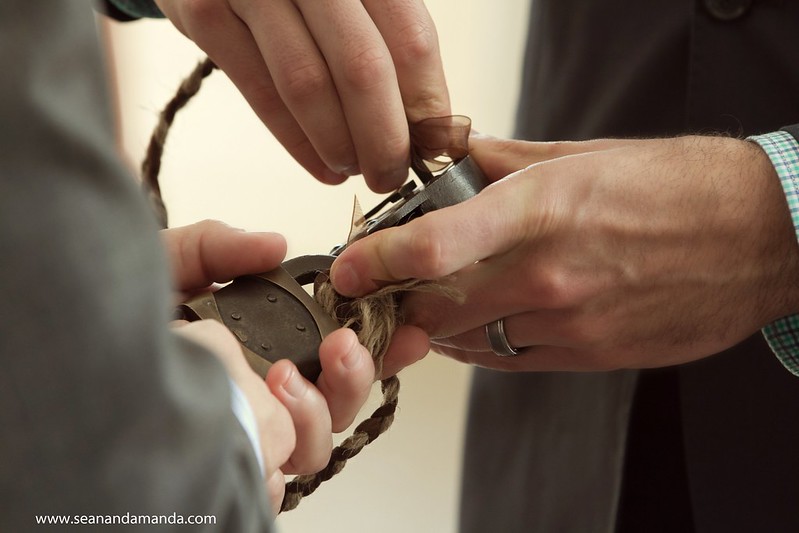 Best Photo Booth Prop Award
To Ally and Adam, for the cheese boobs! As Wisconsin natives, they are both huge Packers fans, so they supplemented the photo booth props with lots of green and gold: including Packers shirts, green and gold feather boas, cheeseheads and my personal favorite – a cheesehead bra, which we quickly dubbed "the cheese boobs." Ally and Adam nearly died laughing at a photo her mom took wearing the contraption!
Best Football Story Award
This is the South, after all, so where there are autumn weddings, there are football stories! While Paul and Diane were having their private date downstairs (and I had just come back down to bustle Diane's gown), we heard the sounds of shouting from the lobby upstairs. Paul's team, Auburn, had just made a miraculous comeback to win the game! He went tearing up the stairs to find out what happened, leaving Diane and me downstairs, laughing and shaking our heads.
Best Compliment I Have Ever Received
From Deborah, who told me I was the Mary Poppins of weddings. Thanks, Deborah! That is my aim… practically perfect in every way!
---
Gratitude to all of my beautiful couples, their families, and our fabulous vendors who worked together to create unforgettable events.
Blessed Be and Namaste ❤️
Top photo courtesy of Anne Almasy
Gallery 1 photos courtesy of My Life Photography, Renee Brock, Alecia Lauren Photography, Picture This!, Blume Photography, Jess Fouts, Making Memories Photography, Something Pretty Photography, Robin Gaucher, Angel Wings Photography, Jamie Treadwell
Gallery 2 photos courtesy of Randy Wilson, Scobey Photography, Libelle Photography, Our Labor of Love, Alea Moore Photography, Renee Brock, Shannon Johnson, Alecia Lauren Photography, Aharon Hill Photography, Viktoriya Evich Krudu, Sean and Amanda Photography, Jamie Treadwell
Gallery 3 photos courtesy of Anne Almasy, Tessa Marie Photography, Scobey Photography, Alison Church, Alecia Lauren Photography, Brian Cole, Ian Rawn, Photo By Gannon, Achor and Eden Photography, Alecia Lauren Photography
Holly's Fabulous Shoes photos courtesy of Robin Gaucher
Buzzy Bee Rehearsal Dinner photos courtesy of Alecia Lauren Photography
Dr Seuss Shower photos courtesy of Shawna Herring
Award photos courtesy of Randy Wilson, Sean and Amanda Photography, Jamie Treadwell
Bottom photo courtesy of Tessa Marie Photography