Like the title of one of my favorite movies ever (Four Weddings and A Funeral), 2021 gave us wonderful and terrible moments, for Circle of Love Weddings and for the world. The pandemic dragged on… weddings cancelled, rebooked and generally shifted, with guest lists fluctuating wildly even up to the days before the event. We all learned to roll with it and be present in the moment. And we created beautiful events and unforgettable memories in the process.
2021 was a year filled with both love and with heartbreak, as my mother passed into peace after a years-long battle with leukemia. It was my great honor to officiate at her graveside service and to celebrate her life at a memorial party.
Circle of Love Weddings relocated our US base to Tampa, Florida; culminating the year with a very special baby blessing of my great-niece (whose parents' wedding I officiated in 2018) on Christmas Eve.
And through it all, people still got married – as they always have and always will, no matter what. Love keeps on winning, and it can never be canceled. And every moment of life is precious, so let's celebrate it however we can.
These are the stories of a strange and ultimately wonderful year. Welcome to 2021!
---
Daria was such a calming, steady, and dependable presence throughout the entire journey…I not only saw but *felt* the love, honor, and joy. She even spent time with my mom before the ceremony learning how to pronounce the name of my Lithuanian grandma. During our vows, she was the calming nature that quietly "coached" us through even when we didn't realize it. And what she wrote for our ceremony was beautiful, impactful, and memorable. I would chose Daria again and again and again. My wife and I (two women) come from "different worlds" with families who come from a religious background…but we wanted to do our own thing true to our story and who we are, so it was important that we found an officiant who not only respected that but could also create and deliver a ceremony rooted in love. Thank you for taking our love story so seriously and delicately. Thank you for having such an open heart. Truly, we can't thank you enough. – Lani & Lani (10/10/2021)
2021 Weddings
Jahna & Nick, married 12 March 2021, Dockside at Piedmont Park in Atlanta, Georgia. To kick off the spring season, I was gratified to find myself back at one of my favorite Atlanta venues, where I got my start back in the day. Jahna and Nick's previous wedding officiant bailed out on them a few weeks prior to the wedding and it was my honor to step in and marry them. Also, L-O-V-E their circular backdrop!
---
Leslie & Daniel,
married 20 March 2021, at First Presbyterian Church and Piedmont Driving Club in Atlanta, Georgia. A classic Atlanta wedding, complete with a trolley for the couple and their wedding party! Thankfully the pandemic had subsided enough this spring to allow this kind of large event, which at one point seemed to be only a distant memory. See more photos from fabulous photographers Anna and Spencer
here
and
here
.
---
Amber & Tommy, married 3 April 2021, at Sweetwater Creek State Park in Lithia Springs, Georgia. A sign of the times: I met the bride in person for the first time as she arrived at the altar for the ceremony! #covidwedding
---
Christina & Dennis, married 1 May 2021, at Atlanta Botanical Garden in Atlanta, Georgia. A stunning spring day overlooking the Chihuly sculpture, an adorable pup, and a family tea ceremony to honor the couple's Asian heritage.
---
Kelsey & Luke, married 15 May 2021, at Zoo Atlanta in Atlanta, Georgia. One word: giraffes! This is pretty much the coolest setting EVER for a ceremony, overlooking the lovely giraffe enclosure at the zoo. These beautiful creatures were fascinated by the strings group, and were so close to us during the ceremony that the bride was distracted from her cues at more than one point!
---
Bruce & Justin, married 16 May 2021, at the Old Decatur Courthouse in Decatur, Georgia. We included a letter box unity ritual into this ceremony, to honor the notes and letters Bruce and Justin have left for each other ever since they first began dating. They wrote letters to each other, and during the ceremony, placed them in a specially made box, to be opened on their first anniversary. So sweet!
---
Jessica & Mark, married 12 June 2021, at Steady Hand Beer Co. in Atlanta, Georgia.
A simple and beautiful ceremony, which incorporated one of my favorite readings: To Love Is Not To Possess, by James Kavanaugh. A sample:
"Love only endures when it moves like waves,
Receding and returning gently or passionately,
Or moving lovingly like the tide
In the moon's own predictable harmony"
Sarah & Stephen, married 5 August 2021, at Winn Park in Atlanta, Georgia.
My favorite memory: being pelted with acorns during the entire ceremony (this is apparently a
mast year
for the oaks). What better symbol for good luck and new life, especially as Sarah was 8 months pregnant!
---
Lauren & Adam, vow renewal and celebration on 18 September 2021, at Studio 887 in Atlanta, Georgia. There is really no bigger honor than to be chosen again… I married Lauren and Adam last year in a tiny ceremony, and they called me back to officiate their renewal of their vows a year later. And talked me into coordinating the party as well! #happytohelp
---
Lani & Alana, married 10 October 2021, at Summerour Studio in Atlanta, Georgia. We kept the faith… even after postponing their wedding for a year due to covid, everything worked out perfectly for this gorgeous couple. I'm so very grateful to have been a part of their celebration… and that I pronounced Grandma's name correctly!
---
Amelia & Adam, married 16 October 2021 at Capital City Club Brookhaven in Brookhaven, Georgia. Once again I had the honor of working with a fabulous family twice…what a joy to co-create Amelia and Adam's "starry night" wedding with Amelia's mom! And we survived the unexpected gale-force winds on the wedding day to boot!
---
Ivory & Zack, married 17 October 2021 at The Barn at Young Harris in Young Harris, Georgia. A simply stunning ceremony location, in a field beneath a majestic tree. Ivory's sweet pup Bear was the ring bearer (get it? Bear-er…) and an active participant in the ceremony, making him the winner of 2021's MIP (Most Important Pup) award!
---
Leigh & Jay, married 21 October 2021 at the Golf Clubhouse at Big Canoe, Georgia.
I truly felt like part of the family, as I officiated and coordinated this family-only, 10-guest wedding in the mountain retreat of Big Canoe. My favorite moment: privately blessing the ceremony space (as I always do) and the harpist spontaneously playing to add her own blessing.
---
Ingy & Mitchell, married 23 October 2021 at home in Powder Springs, Georgia.
Ingy wanted the ceremony very short and very simple, and she challenged me to say everything that was necessary and not one word more… very in keeping with the sentiment of their reading from the Tao Te Ching (a sacred text also very dear to my heart).
---
Kaki & Jeff, married 14 November 2021 at Peachtree Road UMC and Fernbank, in Atlanta, Georgia. My journey with this wonderful family was a long and winding road, culminating in Kaki and Jeff's dream-come-true celebration at her home church and with the dinosaurs at Fernbank. A perfect end to a perfect last year in my own hometown! #ATL
MIP (Most Important Pup) Award
To Bear, as mentioned above… with honorable mention to Christina and Dennis's sweet but shy pup Bailey. Yes, I'm pup-obsessed. No, I'm not sorry! #pupsarethebest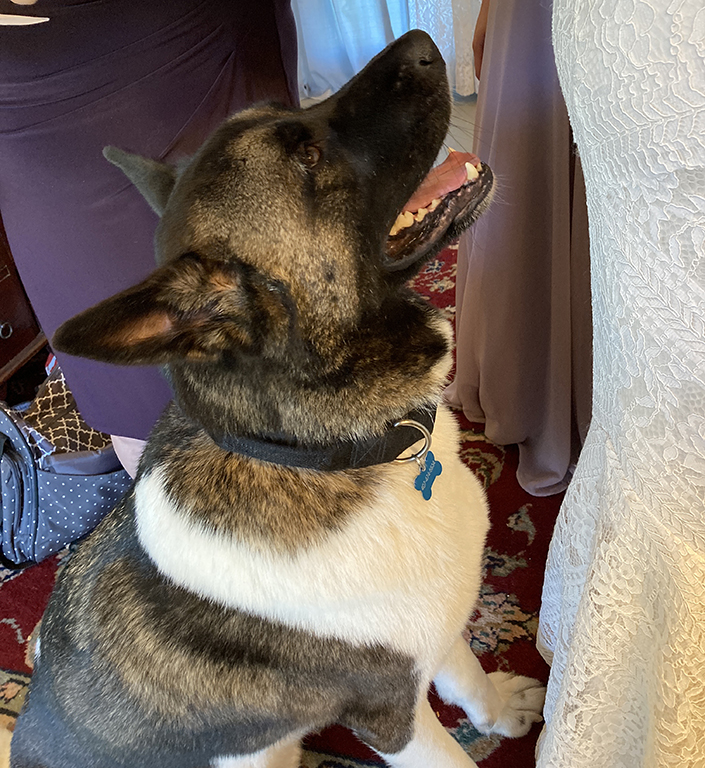 Coolest Entertainment Award
To Amelia and Adam, for the Persian drum group who thrilled and delighted the crowd with a traditional dabke performance. I especially loved how the men in Adam's family jumped right in – they knew all the steps!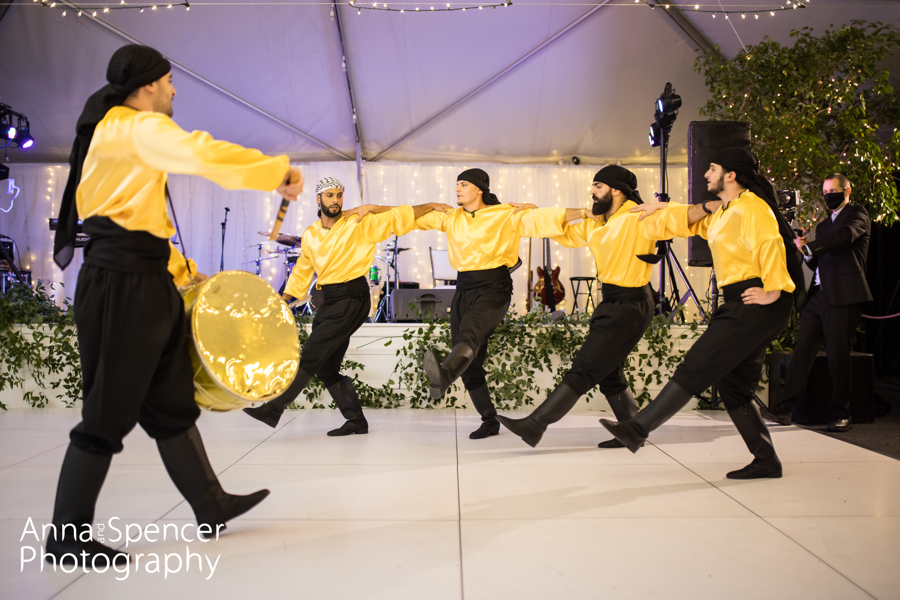 Client Loyalty and Longevity Award
To Kaki and Jeff, my longest-running clients. I worked with them and Kaki's parents for three years as we planned not one, not two, not three, but four events. They were my first covid cancellation in spring 2020 and pushed their big celebration forward twice (third time was finally the charm in November!). In the meantime, they married in a tiny ceremony in June of 2020, on
Loving Day
(very significant as Jeff is a lawyer and of Asian descent). I can honestly say, after all we've been through together over the years, I feel like we are part of each other's families. Here's me with Kaki's mom Catherine, at Amelia and Adam's wedding (Catherine and Amelia's mom, also named Amelia, are dear friends).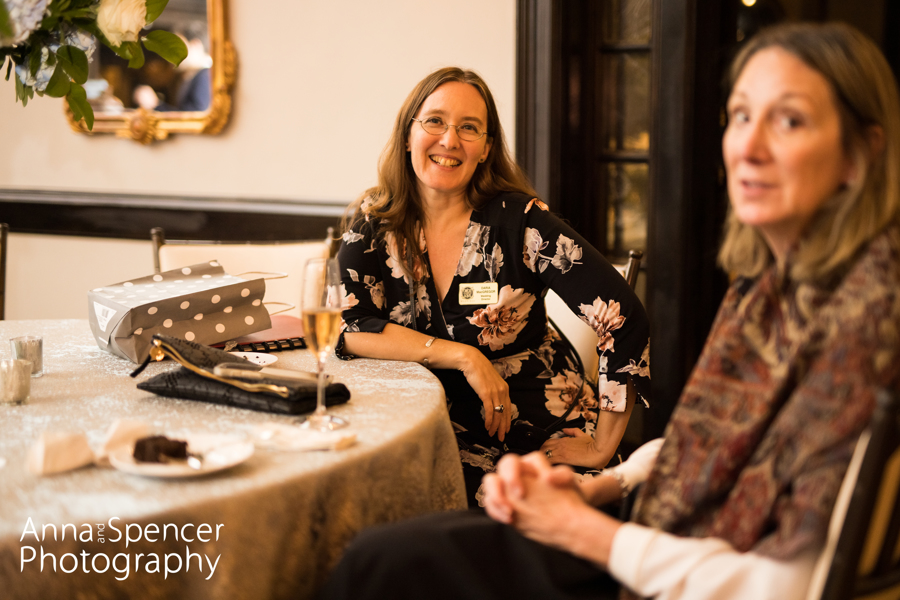 And this, as ever, is the greatest blessing… to create these relationships and to serve in a way that honors life, and love.
"I thank the lord for the people I have found."
~ Mona Lisas and Mad Hatters, Elton John
---
Three More Celebrations of Life and Love
A Celebration of A Life, Well-Lived
My mother Mary Gage "Mimi" Kelleher Wilks passed away on 11 April 2021. We honored her at a tiny private graveside service, which I co-officiated with my brother-in-law. And later in the summer (one day before her birthday), my sister and I hosted friends and family at a celebration of life party at Flint Hill in Norcross, Georgia, the venue where Jim and I held our wedding reception in 2001, and where I worked as a wedding director for many years. We shared stories, memories and photos on a picture-perfect day, celebrating an incredible lady who was, and IS, greatly loved: Gage, Cookie, Mimi, Mom;
beloved mother, sister, grandmother, aunt and friend.
A Celebration of New Life
To cap off a simply amazing year, it was my great joy to create and officiate a baby blessing ceremony for my great-niece, Miriana on Christmas Eve (exactly 5 years after her parents became engaged…oh how I love serendipity!). (Read the story of her parents' surprise wedding
here
.) Miri didn't cry at all – even when I poured water on her head – and she loved the bag of blessing stones we made as a unity ritual during the ceremony.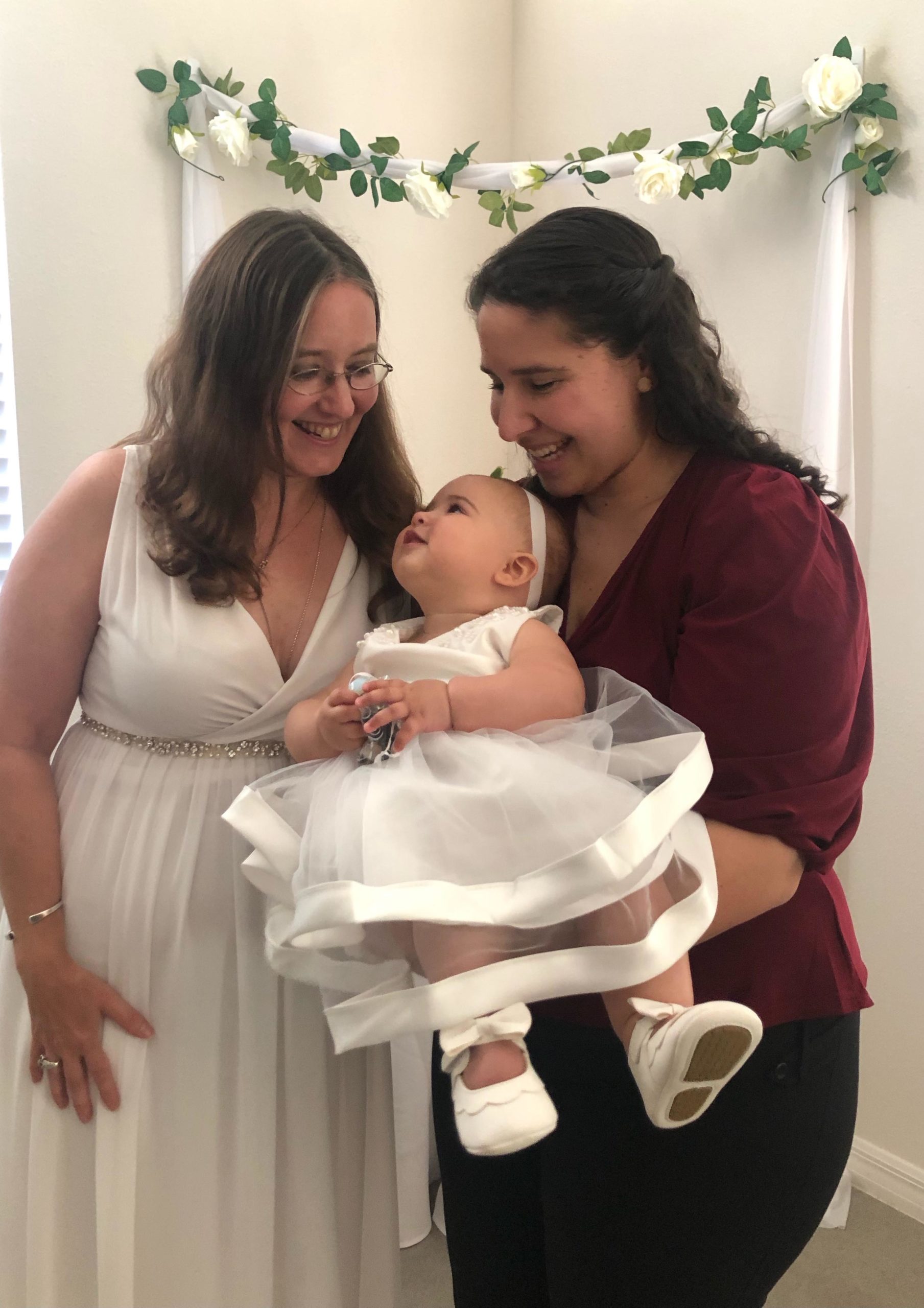 New life, new adventures, expanded ceremony offerings… stay tuned for the continued unfolding of Circle of Love Weddings in 2022 and beyond!
---
And as ever, gratitude to all of my beautiful couples, their families, and our fabulous vendors who worked together to create unforgettable events.
Blessed Be and Namaste ❤️
Top photo courtesy of Laura Stone Photo
Gallery 1 photo 2 courtesy of Anna and Spencer
Gallery 2 photo 2 courtesy of Anna and Spencer; photo 6 courtesy of Laura Stone Photo