A retrospective of 15 years of our celebrations of love. These are the stories of a wonderful year.
In a word, 2014 was intense. 30-plus events (29 weddings plus a bridal luncheon, plus various corporate events and showers), each full to the brim with vibrant personalities (for better and worse!), long months of planning and extra hand-holding, couples who were new to the city or lived elsewhere, family and vendor drama, personal and family illness, deaths and other difficulties for my clients… Oh my!
The year also stands out for its overflowing well of creativity: with an endless stream of charming and super-personal decor details (DIY and professional alike); fascinating cultural mixes and traditions; heartfelt and inspirational officiating by friends; and creative ways to honor family members, those who were present as well as those who were ill or had passed away.
It was truly a crucible year – a time when we threw every possible feeling into the pot, then jumped in ourselves, and stirred like crazy! And we found that we were nourished by the delicious soup that resulted.
These are the stories of a challenging yet magical year. Welcome to 2014!
---
In summary, Daria is a one-of-a-kind planner. Her work is effortless, as if she was designed to make your wedding as incredible as it could be. She was respectful with family yet she knew how to manage them. She cared about our feelings, but wasn't afraid to tell us when we were got caught up in a minor decision or were straying outside of our budget. By the end, I felt like she was as invested in our wedding as we were, and she made our special day unforgettable. We truly can't thank her enough for giving us the best night of our lives."

~ Rich (groom)
---
2014 Events
Isabel & Tayloe, married on January 4, 2014 at The Cathedral of St. Phillip and The Biltmore Ballrooms in Atlanta, Georgia. My favorite memory of this elegant wedding: Isabel courageously walking the LONG aisle of the church alone, since her father was unfortunately hospitalized two days before the wedding. Luckily, the church offered to livestream the ceremony so he could watch from afar, which we all thought was incredible!
---
Kristin & Jeff, married on February 8, 2014 at Summerour Studio in Atlanta, Georgia. A DIY dream: In addition to much of the decor, Kristin hand-wrote and hand-drew all of the paper goods. The motif tying everything together was a drawing of the Atlanta skyline, which Kristin wrote out the invitation and our stationer scanned in to make a digital file. Same with the program – a tour du force which even included stick figures of each member of the wedding party! The escort cards had the skyline printed on them, and each guest's name was written by hand. The overall effect was totally personalized and so fun!
---
Alissa & Adam, married on March 22, 2014 at King Plow Arts Center in Atlanta, Georgia. A musically themed wedding to honor Adam's background (he plays in a local band). The florist outdid herself, making wire flowers out of actual guitar strings, and incorporating antique items like books, trays, doilies and various vases and silver pieces into different tablescapes. Unfortunately, Alissa's mother passed away unexpectedly during the planning, so using some of her possessions became even more meaningful for Alissa. The music theme also continued with an actual guitar used as a guest book.
---
Jenneca & Lorenzo, married on March 29, 2014 at Emory Conference Center Hotel in Atlanta, Georgia. Since last year, several of my brides have embraced the new trend of doing a "First Look" photo with their fathers. This is a sweet tradition in the making, and Jenneca made it fun with the addition of bunches of balloons (in purple, of course!), which she and her dad both held in front of their faces as they approached each other. It made for a cute photo!
---
Amanda & Joe, married on April 5, 2014 at the Atlanta Botanical Gardens and Sweetwater Brewery in Atlanta, Georgia. The ceremony was originally supposed to take place at the Dock at Piedmont Park, but in what ended up as a stroke of luck, we had to move it to the Botanical Garden due to the Dogwood Festival. What a gorgeous day we had in the Garden! Amanda was thrilled (and moved to tears) by the sight of the hundreds of blooming tulips.
---
Rosanne & Rustom, married on April 19, 2014 at the Trolley Barn in Atlanta, Georgia. Rosanne was a very calm, organized and crafty bride. This was a handmade wedding, with lots of cute signs and decor that Rosanne made herself. The yellow and gray color scheme was perfect for spring!
---
Rachel & Dave, married on April 26, 2014 at Summerour Studio in Atlanta, Georgia. Rachel and Dave had one of the cutest, most creative themes I've ever seen! Since a large part of their relationship was long distance, they had the idea to incorporate telephones and other vintage communication devices throughout the wedding. Dave designed a telephone graphic that was used on all the paper goods, and together they came up with cute wording for each piece. Ring, Ring (get it, for the telephone and the wedding rings!) appeared on the invitations, programs, and as giant papier mache letters on the entrance table at Summerour. Rachel typed all the other wording on a vintage typewriter (including all the escort cards!) and Dave scanned it in to make the graphics. Escort cards were displayed in an antique Rolodex, and programs in library card boxes. Even the cake had tiny telephones on top!
---
Sara & Craig, married on May 3, 2014 at St. Brigid Catholic Church and Flint Hill in Norcross, Georgia. How wonderful to be back at my "home venue" – Flint Hill, where my own wedding reception was held, and where I worked as a wedding director in the early days of COLW. There are some weddings where the weather doesn't matter so much…this wedding was not one of those! For 15 months, as Sara and her mom and I put together the plans, we thought about and hoped and wished for a perfect evening, so the outdoor dinner wouldn't be ruined. And oh my goodness, did Mother Nature deliver! Believe me when I say that between the heavenly weather and the gorgeous decor and the twinkling lights overhead and in all the bushes, it truly was a magical setting.
---
Fei & Ray, married on May 10, 2014 at Ashton Gardens in Sugar Hill, Georgia.
What a party! The entire group hit the dance floor and didn't slow down the whole night! A highlight of the evening was a surprise dance performance, choreographed and performed by the bridesmaids. At one point a couple of the younger boys were showing off their break dancing moves (they were awesome, I might add!), and next thing we knew, Ray's dad was in the circle trying it out as well! What makes this even better is that this was the Asian family's first American-style wedding. I love it when the family embraces new traditions and really gets into the spirit of the event!
---
Kim & Rich, married on May 17, 2014 at Greystone at Piedmont Park in Atlanta, Georgia. Kim and Rich are both doctors and were very busy with their residencies at Emory. Not to mention, they had recently moved to Atlanta from Florida, and didn't really know anyone or anything about Atlanta. My favorite memory of their wedding was their sweet First Look moment. It's always a privilege to get to see this time. We did this one on the second floor of the W, which overlooks the lobby but is pretty quiet and private. Observing how they were just wrapped up in each other, I remember thinking that here they are, working together in a very challenging situation in a new city, they just have each other to rely on, and what a strong start that will be to their marriage.
Denise & Mike, married on May 25, 2014 at The Foundry at Puritan Mill in Atlanta, Georgia. This delightful couple had purposely chosen Sunday of Memorial Day weekend so they could have a totally fun weekend with their family and friends. After a family photo session and dinner on Friday, a 5K run on the Beltline, poolside barbecue and dinner and games at Ormsby's on Saturday, one would think they would be a bit tired, but no way! They were ready for the cap to the weekend – the wedding day – which was the "fun and funky" event they had dreamed about!
---
Alex & Andy, married on May 31, 2014 at Cathedral of Christ the King and Emory's Miller-Ward Alumni House in Atlanta, Georgia. I loved this beautiful tradition: to honor Alex's family roots, her parents performed a traditional Polish welcome as she and Andy entered the reception. All four parents greeted the couple at the door, and served them bread, salt and wine. Bread to signify wishes that they will never hunger or be in need; salt to remind them that life may be difficult at times; and wine in the hope that the couple will never thirst and that they will have a life of good health and good cheer, and share the company of many good friends. May it be so!
---
Kristen & Andrew, married on June 14, 2014 at the Trolley Barn in Atlanta, Georgia. The Trolley Barn was a vision in purple for Kristen and Andrew's summer wedding. Although they kept it simple (no wedding party and a relatively small guest list), Kristen's mom went all out with the beautiful decor. And we were blessed with a gorgeous summer day!
---
Kathleen & Jim
, married on June 21, 2014 at Holy Spirit Catholic Church and the InterContinental Buckhead in Atlanta, Georgia. A classic Atlanta church-hotel wedding for a fabulous couple. Water issues notwithstanding (the bridal suite flooded the morning of the wedding, and we ourselves were flooded with buckets of rain just as we were leaving the church for post-ceremony photos), this radiant couple brought the sunshine of their love to the entire proceedings! Read Jim's proposal story
here
.
---
Jacquie & Syl, married on July 5, 2014 at Monday Night Brewing in Atlanta, Georgia. Jacquie and Syl wanted a fun, casual, picnic-style wedding. Theirs was one of the first weddings to take place at this super cool, up-and-coming venue (two highlights – the Tie Wall, fabulously unique as a photo backdrop; and the gorgeous side patio running the entire length of the building!). I was fascinated by the transformation from brewery to beautiful event space that our amazing vendors made happen in just 1.5 hours. Wedding magic, and further proof that teamwork makes the dream work!
---
Christina & Tim, married on July 12, 2014 at Morningside Baptist Church and the Georgian Terrace Hotel in Atlanta, Georgia. This adorable couple's wedding was fraught with drama on the surface (a fire which destroyed her parents's home, a defective wedding gown, missing tuxedos the day before the wedding…) yet they and their families were determined to make the best of it – and the wedding was fabulous and perfect in the end! (Much to everyone's relief – especially mine!)
---
Jenna & Piet, married on July 27, 2014 at Lake Rabun Hotel in Lakemont, Georgia.
What a sweet little wedding! Jenna and Piet live in Belgium (he is Belgian), and after dating long distance for 5 years (!), she finally moved there so they could be together. They planned a rustic, charming destination wedding so their closest friends and family could celebrate all weekend with them. Jenna found the Lake Rabun Hotel online, and thought the circa 1922 bed and breakfast would be perfect – and it was! With just 23 people total, it was an intimate weekend where everyone really got to know each other. I loved her travel theme for the decor!
---
Larkin & Matt, married on August 2, 2014 at the Atlanta Botanical Gardens in Atlanta, Georgia. Larkin and Matt are third generation high school sweethearts – following behind Larkin's parents and grandparents. I have never heard such a romantic tale! A wedding day miracle occurred: despite much anxiety on Larkin's part, we had stunningly beautiful weather (75 degrees – cool for August, and the predicted rain never came). The charming "Our Love Story" table honored the three generations of lovers, complete with photos and props (such as the bouquet Larkin caught at one of her Matrons of Honor's wedding), telling the story of Larkin and Matt through high school, college and beyond.
---
Katie & Mike, married on August 23, 2014 at the Ritz-Carlton, Buckhead in Atlanta, Georgia. The sweetest, kindest family – and that's saying a lot in this year of extra-amazing families! I loved working with Katie and her mother. The wedding was classic and lovely in the newly renovated Ritz Buckhead ballroom. Towards the end of the evening, Katie left the dance floor and went to sit and visit with her grandmother and her great aunts. That's just one example of the sweet and thoughtful person she is!
Kiran & Aaron, married on August 31, 2014 at Emory Conference Center Hotel in Atlanta, Georgia. This was a somewhat complicated, non-traditional wedding: Kiran is Indian Muslim and Aaron is American Jewish; one of the most interesting mixes of families and traditions I have had yet! The theme was blending – of families, traditions, beliefs, and love. I worked with Kiran and both moms, and one of the things I noticed and really appreciated was that everyone involved really got it – a wedding is about love and bringing everyone together, focusing on similarities, not about judging and focusing on our differences.
---
Melissa & Anthony, married on September 6, 2014 at The Georgian Terrace Hotel in Atlanta, Georgia. A relaxed, calm and organized bride results in a relaxed, fun and flawless wedding! My favorite detail: Anthony is not at all sappy (at least he didn't show it with me). But the song he chose for the mother/son dance (93 Million Miles by Jason Mraz, which I have never heard before) was super sweet! It's a beautiful song about no matter how far you travel, you can always come back home. Very appropriate for a couple who is starting fresh in a new city, far from their families.
---
Kim & Brian, married on September 20, 2014 at a private residence in Gainesville, Georgia. Brian's family's Lake Lanier home, where he had spent many happy summers with his cousins, was the perfect setting for this Florida couple's intimate wedding. Kim and Brian's mantra was "keep it simple," and they insisted on their event having a casual, "non-weddingy" feel (Kim must have said that 100 times!). Kim and Brian swore they wouldn't dance, but near the end of the night, the guests encouraged them, and they shared a sweet moment swaying together under the stars. It was the perfect end to a perfect wedding day!
---
Ann & Trevor, married on October 4, 2014 at Callaway Gardens Discovery Center in Pine Mountain, Georgia. This wedding was all about the kiddos! Seriously – I think the children outnumbered the adults! Ann planned many details for them to enjoy, including a fabulous candy bar (which was quite popular to say the least), and special favor bags with treats for the kids – and for the turtles!
---
Erin & Tom, married on October 18, 2014 at King Plow Arts Center in Atlanta, Georgia. A warm and elegant wedding for this warm and wonderful couple! The venue glowed with candles, jewel-toned flowers, and a projected backdrop of trees. Erin and Tom wanted their wedding party to be with them the whole night, and made the estate table the center of the room for this purpose.
---
Mitra & Sean,
married on November 1, 2014 at the Biltmore Ballrooms in Atlanta, Georgia. Mitra, who works for CNN, needed help planning her wedding since she travels so much. In fact, about halfway through the planning process, she was sent to Malaysia indefinitely to cover the missing airplane (the
story
of the year in 2014). For a while, we weren't sure she would be able to come back in time for the wedding! Eventually she did come home, and we wrapped up all the details of this very interesting wedding. Sean is British, and Mitra has Iranian heritage, so the ceremony was a traditional Persian-style ceremony, with some Anglican details. Curious? Read more about it
here
!
---
Christine & Jacob, married on November 8, 2014 at the Commerce Club and the Foundry at Puritan Mill in Atlanta, Georgia. Chrissy and Jacob live in Chicago while Jacob attends business school, but met in Atlanta. They wanted their wedding to be a fun reunion of friends and family in one of their favorite cities. With a busy work travel schedule, Jacob's school, and only seven months to plan the wedding, Chrissy relied heavily on me to assist her with most of the decisions. On her trips to Atlanta we would feverishly visit vendors and finalize details until everything came together. Their wedding weekend was a tour of downtown Atlanta, with photo sessions in various locations – including Piedmont Park, where we dodged the crowds and caught some amazing autumn light!
---
Brittanie & Steve, married on November 15, 2014 at the Georgian Terrace Hotel in Atlanta, Georgia. Brittanie and Steve, who live in California, contacted me with just five weeks left to plan. It was a mad race to the finish line as I helped them choose vendors and wrap up the details. Brittanie is a Georgia Peach, and Steven is a California boy. Incredibly, he wished for her 15 years ago (he and his friends literally wrote a rap song 15 years ago and one of the lines was that he wished for a Georgia Peach). He and Brittanie planned a classic, formal wedding at the Georgian Terrace. It was very important to them that their guests would enjoy Southern hospitality, great food and beautiful decor.
Mission accomplished!
---
Audrey & Walter, married on December 13, 2014 at Druid Hills United Methodist Church and the Commerce Club in Atlanta, Georgia. I personally think the winter holidays are one of the most beautiful times for a wedding… everyone is in the spirit, plus, you have the benefit of built-in decor. Audrey, one of my most organized brides ever, had specifically timed the whole evening so guests could enjoy the sunset from the 49th floor Commerce Club, which was stunning and very much appreciated by the guests.
---
Emily & Matthew, married on December 27, 2014 at Summerour Studio in Atlanta, Georgia. Merry Wedding! I usually take this last weekend of the year off, since 12/28 is my wedding anniversary. However, Emily and Matthew ("Teo") and Emily's mom Joen were so nice in their initial contact, and I love working at Summerour so much, I just couldn't resist. We worked together for eleven months putting together this family-oriented, organically styled wedding. Emily and Teo met overseas at Spanish camp, and are both vegetarian and sensitive to the environment. They wanted everything in their wedding to have a soft, natural feel. Instead of a traditional cake, they ordered pies from a favorite shop in Roswell. The pies were so popular that it took me and two catering staff to hold the guests off from them so Emily and Teo could make their ceremonial cut and feed each other! Lesson learned: do not attempt to separate pie-loving guests from their dessert!
2014 Awards
Most of this year's awards relate to decor – there were so many creative ideas that it was really difficult to choose! Here are some highlights!
Most romantic decor
To Amanda and Joe; in a crowded field, the clear winner! They exchanged vows in front of an arbor that was especially designed and built by Joe and his dad.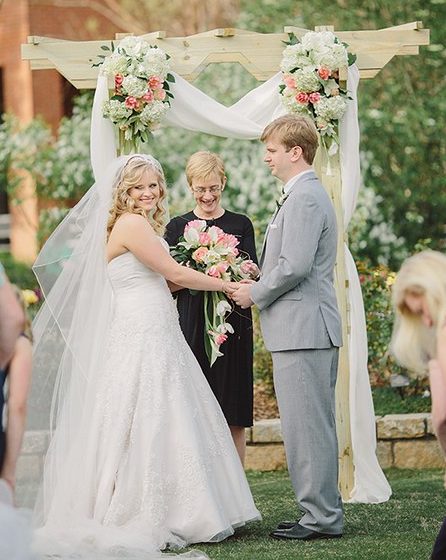 Most creative theme
To Rachel and Dave for the vintage telephone theme – I've never seen anything like it before or since! The most incredible detail of all: each tablescape included an actual vintage telephone, in all the colors of the wedding!
Most creative item
To Sara and Craig, for the quilt guest book. Each guest signed a fabric square at the reception, which we displayed on wire strung in a vintage window frame. Post-wedding, Sara and Craig's moms sewed the squares into a very special keepsake that will certainly become a family heirloom. Beautiful!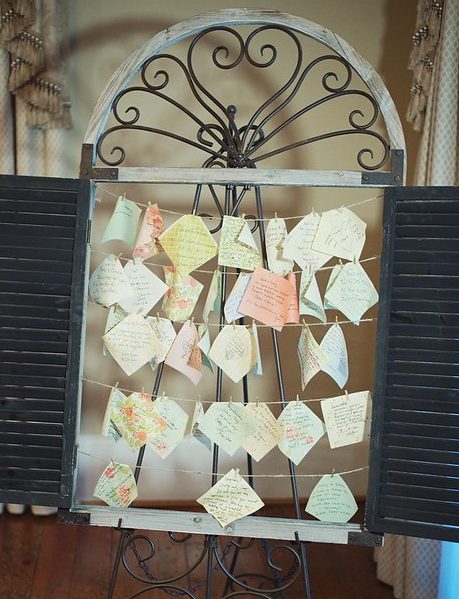 Best favor
To Audrey and Walter, who offered handmade recipe books with some family recipes from both sides. Cute, unique and useful – my favorite kind of favor!
Best departure vehicle
To Larkin and Matt, who departed in his father's vintage Mustang – the coolest departure car I've ever seen! Bonus points for their wise planning ahead – they held a wooden "Thanks Y'all" sign in one of the photos, which they then used to create personalized thank you notes.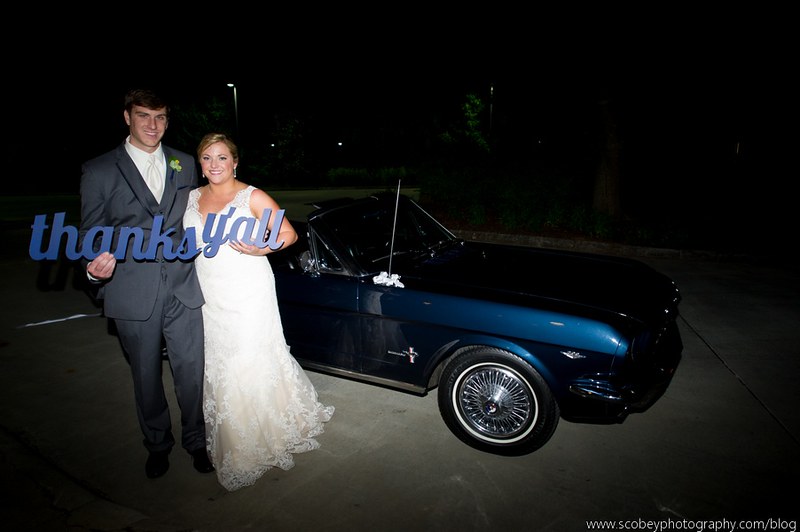 Best comic relief
To Denise and Mike. Many of Denise's details showed her fun personality, but none more than the program, titled: "How to survive yet another wedding." Designed by her and Mike, it was a tongue-in-cheek guide, complete with wedding cartoons, for guests who had probably been to a lot of weddings. Denise and Mike wanted to make sure they had something fun to read while waiting for the ceremony, and to know that there were lots of fun moments to come!
Most useful flower
Katie and her florist came up with the idea to tuck a sprig of dried lavender into each napkin, and Katie also had some in her bouquet. Lavender is said to bring good luck, and it is also a symbol of love and devotion, making it a particularly meaningful flower to include in the wedding decor. Not only that, it also has calming properties, meaning that it may remove some pre-wedding jitters when sniffed.
Fabric miracle and MVV (most valuable vendor)
Christina was a vision in her Hayley Paige gown. No one but us knew that we had spent literally hours every day of the wedding week at the atelier and the fabulous Irina's Alterations as the defective bodice was completely reworked not once, but twice. Finally, the miracle occurred: on Thursday morning at Irina's, when Christina tried on the gown for probably the 20th time that week, and instead of looking like she was going to cry (or actually crying), she smiled and said she loved it. Hallelujah! Hurray for Irina!
My Favorite Moment – Amanda and Joe
It really wasn't just one moment, but rather a feeling that permeated the whole day. After 15 months of planning some brides are exhausted and just want things to be over and done, but Amanda was giddy with happiness the entire day. She would literally laugh with excitement, and give little screams when she saw things (like the tulips, or their private meal at Sweetwater). Every time she did that it reminded me why I love doing this so much – seeing the joy that is present on this day that celebrates a couple's beginning together.
---
Coda
In full disclosure, I was not looking forward to reliving 2014 while writing this post (which I am writing in 2023). For years, I had held onto the feelings of intensity, of overwhelm – and I did not relish diving back into those stormy waters.
How grateful I am to have done it anyway!
Because now, I can sit tall and strong in all the intensity – AND be in gratitude for ALL the amazing lessons, practices, wedding miracles and magical moments. I get to relive the beauty and joy – and there was so much. And with some perspective, I can see so clearly how, like a volcano, 2014 was a year of chaos which created fertile soil to grow the next phase of Circle of Love Weddings, which at this point was (and is!) on the horizon.
I'll leave this part of the story with these words, which I wrote in an Instagram post (and repeated
here
) in 2020 (another year of intensity!).
"It's such a joy to read back over these stories, see the photos again, and remember the good times. Simultaneously, these wonderful stories also contain the memories of the truly crazy situations (because with weddings, s#?% definitely happens!), the disasters we overcame, the unexpected changed plans that threw us for a loop, the disappointments that sunk us low.
And what became really clear to me after viewing these years of stories as a full spectrum is that for every single one of my couples, no matter what happened during the planning process or at the wedding itself, everything turned out just fine, dare I say perfectly, in the end, despite how bad things seemed at the time!"
And so I sit, once again, in pure joyful gratitude, for all that has been, and all that will be… knowing (because I can see it from this point in time) that all WILL be well.
Because ALL is Love.
How lucky we are, to be able to celebrate life! L'chaim!
As ever, gratitude to all of my beautiful couples, their families, and our fabulous vendors who worked together to create unforgettable events.
Blessed Be and Namaste ❤️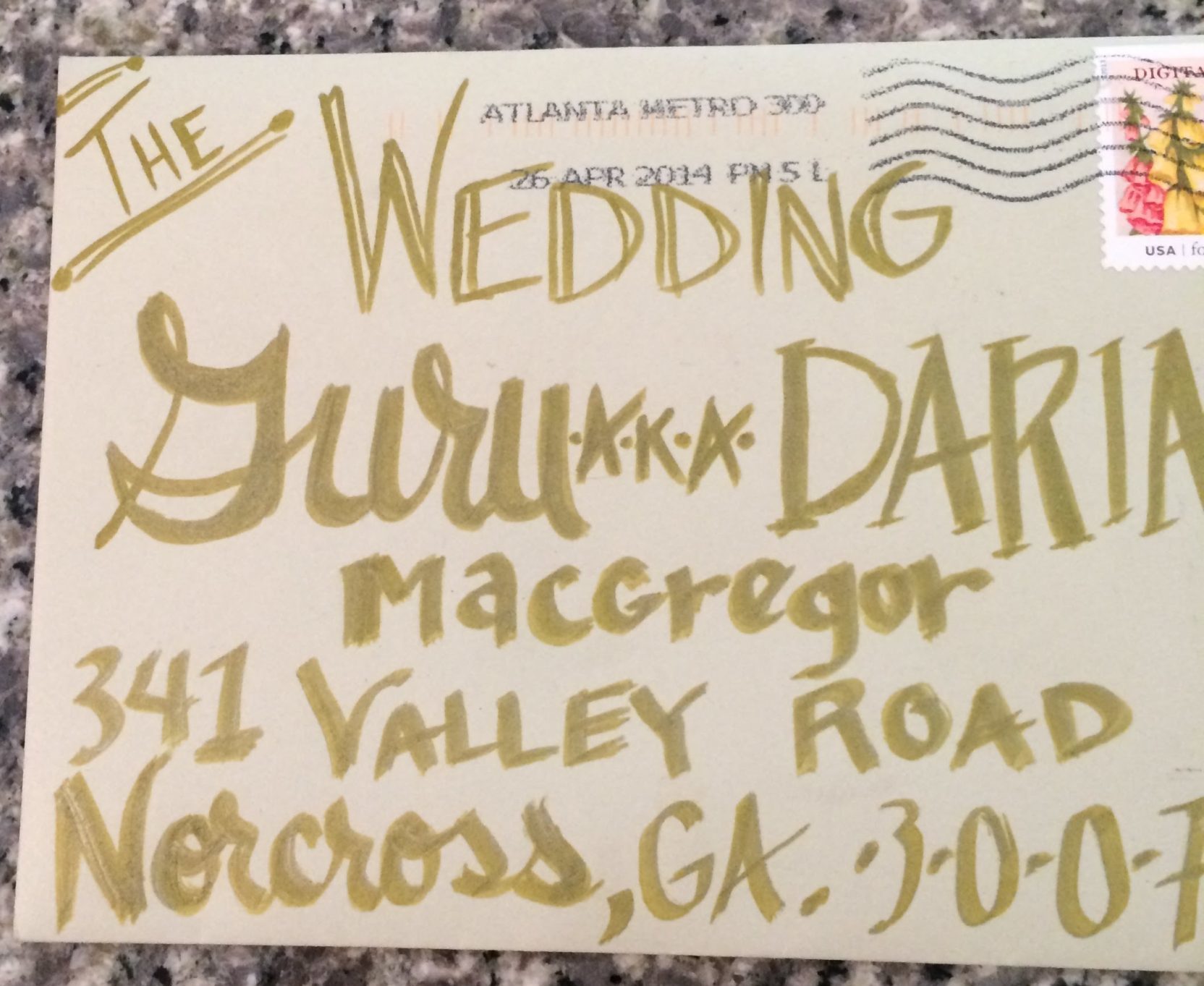 Top photo courtesy of Scobey Photography
Gallery 1 photos courtesy of Tim Harman Photography, Lauren Wright Photo, Emma Elaine Photography, Taun Henderson, Jeremy Harwell Photography, Berry Tree Photography, Tim Harman Photography, The Reason, Melissa Prosser, Tessa Marie Photography
Gallery 2 photos courtesy of Trent Chau, Atlanta Artistic Weddings, From The Hip, Storytellers, Tim Harman Photography, Shawna Herring, Pieter Morlion, Scobey Photography, Laura Stone Photography
Gallery 3 photos courtesy of Javon Longieliere, Alecia Lauren Photography, Stacey Bode, Buffy Dekmar, Matt Yung Photography, The Decisive Moment, Rodinis Films, Scobey Photography, 35 Atlanta, Carrie Joy Photography
Award photos courtesy of Jeremy Harwell Photography, Tim Harman Photography, The Reason, Scobey Photography, Laura Stone Photography, Shawna Herring, Jeremy Harwell Photography